Best UPF 50+ Resort Wear: Vacation Outfit Guide
Are you planning a vacation soon? Make sure you stay sun safe. For the best UPF 50+ resort wear, check out our ultimate UPF clothing vacation guide.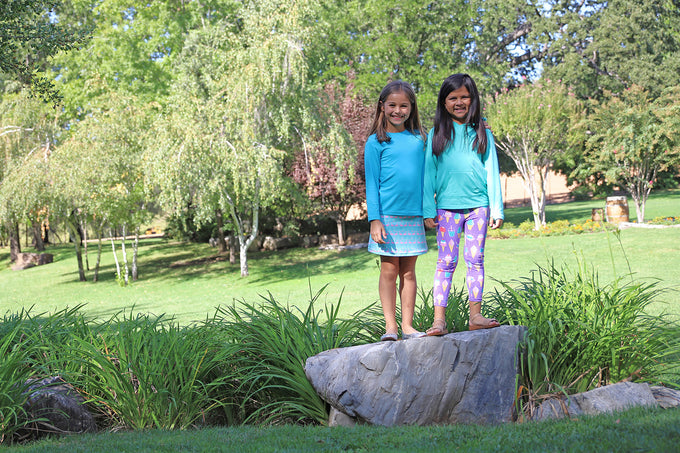 Are you looking for UPF resort wear to pack for your upcoming vacation? With UV Skinz's collection of UPF 50+ resort wear, stay stylish this upcoming holiday while also protecting yourself from the sun.
What Is Resort Wear?
Resort wear is a collection of clothing you'd wear on vacation or holiday.  It is typically more casual but less formal than business casual dress. Resort attire is intended to be cozy and relaxing, so you can be comfortable on the beach, at a resort, or on the golf course. 
Best UPF Resort Wear
When it comes time to pack your bag for your next vacation, you might be wondering what to wear. If you're going to be out in the sun, you want to make sure you have UPF clothing that will keep you and your skin safe. Check out the following 7 best UPF resort wear items to take with you on vacation below. 
7 UPF Resort Clothing Items You Must Bring on Vacation
1. Baby Hooded Everyday Romper
Our baby hooded everyday romper is the perfect grab-and-go baby outfit for your little one on vacation. This romper is comfortable and features a hood, so it provides your baby with extra protection from the sun. Available in a bunch of fun fabrics and prints, your little one will love this so much they won't want to take it off!
2. Women's 3/4 Sleeve V-Neck R&R Tee
Our women's UPF 3/4 sleeve v-neck R&R tee is our rest and relaxation UPF shirt for women. Whether you live by the beach or not, this piece is ideal for everyday wear. As size inclusivity is important to us, this UPF shirt is also available in plus-size as well. 
3. Women's UPF Long Sleeve Everyday Tee
Our women's UPF long sleeve everyday tee will be your next go-to tee for vacation. You can dress this up or down and the fun prints make it easy to pair with any beachwear. The fabric is breathable and super comfortable, making this your go-to choice for the beach, the cruise ship, or an afternoon walk. 
4. Women's V-Neck Maxi Dress
Whether you're interested in formal or casual resort wear, our women's UPF v-neck maxi dress is the perfect option. Buttery soft and airy, it pairs well with a sun hat for a day at the beach, or stylish accessories for a nice dinner in the evening. 
This UPF dress comes in sizes S to 3XL with a more modest neckline and a high and flattering waistline. 
If you're planning on going to dinner as a family, have a nice date night planned with your partner, or are attending an afternoon beach wedding, we highly recommend this UPF dress. 
Hot tip: This UPF dress pairs so well with our women's long sleeve crossover sun wrap!
5. Men's Short Sleeve Polo
Wear this UPF 50+ men's polo shirt for any and all outdoor activities! You can wear this during golf or out to dinner with your family. This UPF shirt for men is comfortable and lightweight, making it the perfect outdoor shirt. 
6. Kids' Everyday Pullover Hoodie
Our kids' everyday pullover hoodie is a great option to throw on after the beach or when it gets a little cooler or windy outside. With UPF 50+ protection, you won't need to worry about your kid getting sunburnt either.  This kids' pullover hoodie ranges in sizes 2T to 14.
7. Girls' Active Sport Swim Capris
Our girls' UPF leggings can be worn as pants out to dinner or on the beach. These are stretchy and comfortable, so they're the perfect pant to wear for any vacation activities. They also offer UPF 50+ protection from the sun as well, so you can rest easy knowing your daughter is sun safe no matter where your vacation takes you. 
Frequently Asked Questions About Resort Wear
Where Can You Shop for Plus-Size Resort Wear?
Here at UV Skinz, we pride ourselves on offering plus-size resort wear up to 4XL. You can shop plus-size resort wear in our online store!
Are you getting more excited for your next vacation? Be sure to stay sun-safe while you're there with our collection of UPF resort wear for the entire family.