Hats That Aren't Afraid of Water
These swim hats are ready for your next day around the pool or trip to the beach. They're certified UPF 50+ for all day sun protection, have a swim-friendly design that can handle a good dunking, and are a breeze to care for. Some styles even float to make them harder to lose. Prepare for your next water day by getting new swim hats for the entire family.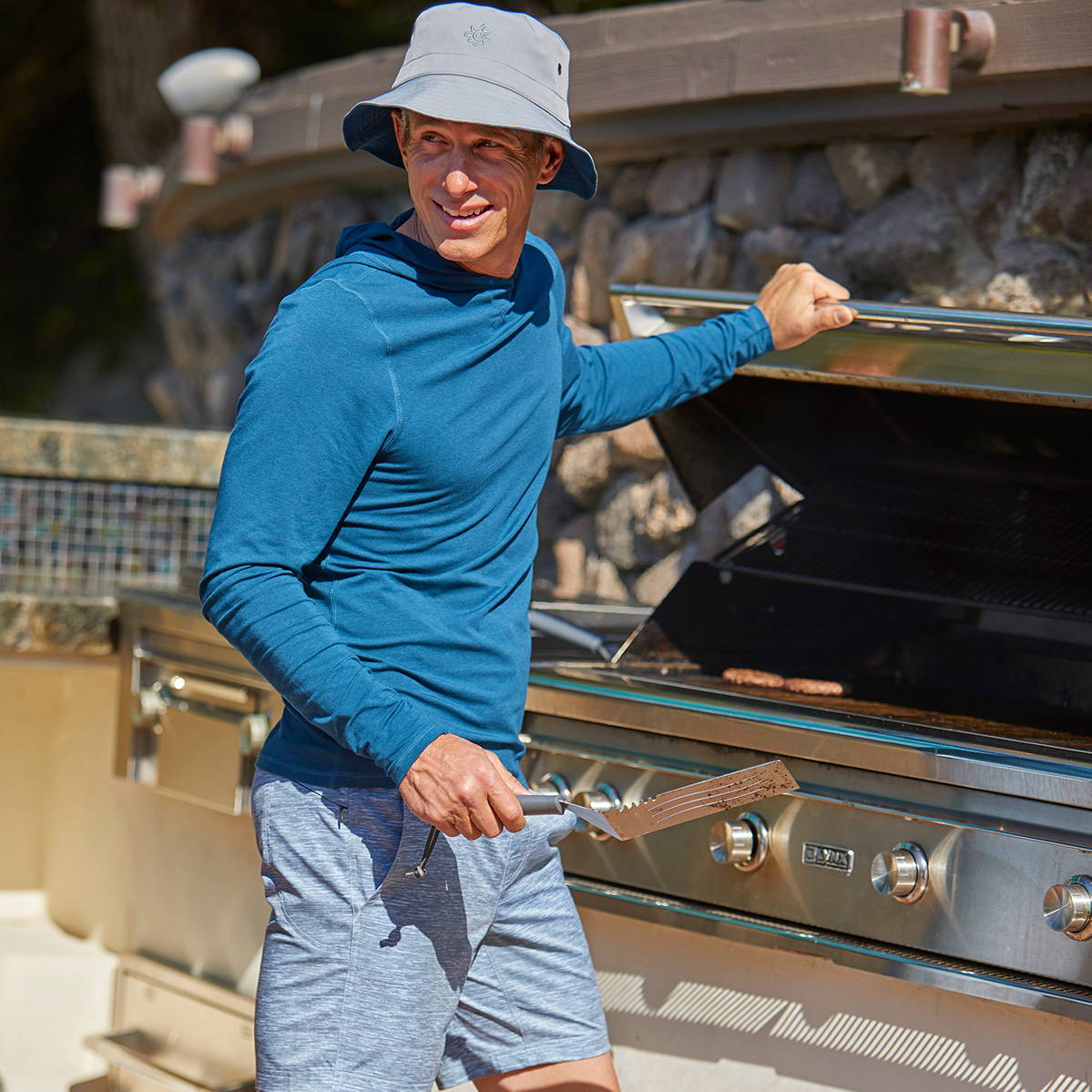 UPF50

+ Swim Hats for the Family
Protecting yourself and your loved ones from harmful UVA/UVB rays starts with choosing the best sun-protective clothing and swimming hats. At UV Skinz®, we are dedicated to providing top-quality hats for swimming that are comfortable, stylish, and, most importantly, sun-safe. We offer swim hats for adults and kids' sun protection swim hats to ensure your whole family has a safe and enjoyable time in the sun.
Why a UPF 50+ Swimming Hat?
Not all swim hats are created equal. At UV Skinz®, we design each sun safe swim hat with UPF 50+ sun protection to keep your face and eyes shielded from the sun's harmful rays. According to the Skin Cancer Foundation, Ultraviolet Protection Factor (UPF) indicates the level of UV radiation a UPF swimming hat allows to reach your skin. A swim hat needs to have at least a UPF 30 rating to receive the Skin Cancer Foundation's Seal of Recommendation. Our hats for swimming go above and beyond that for your safety!
What Makes UV Skinz Swim Hats the Best Choice for You & Your Family
Each UV Skinz sun hat for swimming offers UPF 50+ protection with stylish yet functional designs that add extra safety from the sun.
UV Skinz Swim Hats Have Wide Brims for Extra Shade
Wide-brimmed swimming hats provide shade for certain parts of the face and scalp that are difficult to cover with sunscreen. This offers an extra layer of protection for vulnerable areas while keeping the sun's harmful rays out of your eyes.
UV Skinz Hats for Swimming are Quick-Drying
The best swim hat is quick-drying so that you can wear it in and out of the water with ease. Whether you're playing in the pool all day or lounging on the beach somewhere, you never have to take your swimming hat off. Plus, they are lightweight and easy to clean, so your little ones can wear them in the sand, dirt, or wherever else they find themselves outside.
UV Skinz Swimming Hats are Comfortable and Stylish
Each swimming hat has a unique style, color, and pattern, so you can choose the one that matches your swimsuit and all your summer apparel. We offer a wide selection of swim hats for adults and kids so that everyone can find their favorite comfortable sun hat for swimming.
Protect Your Family from Head to Toe with UV Skinz®
Head-to-toe protection is essential for a safe and enjoyable day in the sun. Start by finding the best swim hats and sun hats for your next adventure. Then explore sun-protective swimwear with ample coverage. Our kids' swimwear includes rash guards for full-arm protection, our men's sun and swimwear includes stylish board shorts, and our women's sun and swimwear includes coverups and activewear. Top off your sun-protective outfit with sunscreen to cover the remaining exposed skin, and you are all set for your next water adventure.
Whether he needs a swimming hat for a guy's trip, she wants a sun safe swim hat for an upcoming vacation, or you want extra UV protection for your kids, we have what you need. Find the best swim hats from UV Skinz®, and get ready to enjoy a summer full of safe, enjoyable days in the sun!