5 Tips for Annual Healthy Skin Maintenance
Taking care of your skin means making sure you know how to do so. Discover 5 tips for healthy skin on the UV Skinz blog today.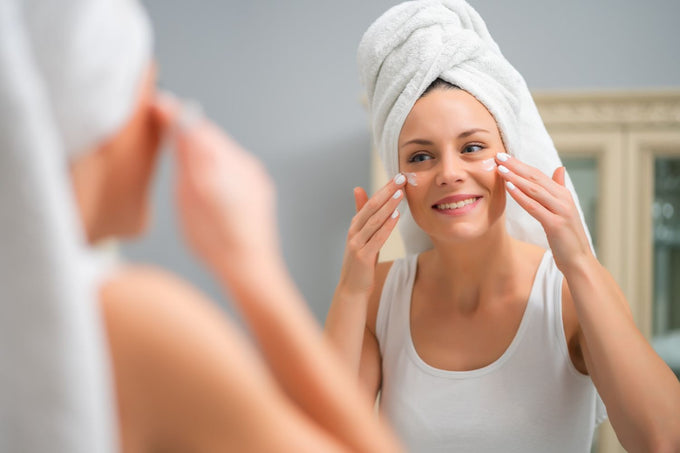 Medical Advice Disclaimer: This content is not intended to be a substitute for professional medical advice, diagnosis, or treatment. Always seek the advice of your physician or qualified healthcare provider. Never disregard medical advice or delay care because of something you have read in this content.
Tips for Healthy Skin 
It's the perfect time of the year to start thinking about your skincare goals and managing your calendar for the upcoming year. Here are 5 steps for planning and preparing to care for your skin. 
1. Schedule Your Annual Primary Care Visit
Generally, healthy adults should see their primary care provider at least once annually for a health assessment and any necessary lab work. At this appointment, you can bring up any skin concerns, like moles, aging, acne, etc.
You should get a skin test done to check for any signs of skin cancer. 
Children and teenagers should follow the suggested well-child visit schedule of the American Academy of Pediatrics (AAP) and the Centers for Disease Control and Prevention (CDC) on how often to see their primary care provider. 
2. Consider A Dermatologist Visit
You may be referred to a dermatologist if your primary care provider believes your health needs or your health risk level is best suited for dermatological management.
A dermatologist will be able to do a thorough skin check that involves looking at the scalp, back, nail beds, and entire body for concerning skin lesions.
Your dermatologist will also take a look at your personal and family history and determine how often you need a skin check, and what measures you can take at home to watch for any concerns.
3. Perform a Daily Skin Care Routine
Social media might try to convince you that having a 20-step skin routine is the new secret to healthy, glowing skin. However, many dermatologists agree that a simple routine is ideal. Most adults benefit from a three-step skin care routine:
Exfoliate. This is the process of cycling the dead skin cells off the skin to reveal fresh skin cells underneath. A majority of specialists recommend chemical exfoliation (through skincare ingredients), rather than physical exfoliation (from dermaplaning or scrubs).
Moisturize. Moisturizer protects the skin from everyday issues, like dryness or oiliness. Moisturizers also function to lock in other skincare products, like serums.
Recover. Just like the rest of our body, the skin needs rest. This means that some days your skin might need an extra gentle face wash, a gentle moisturizer instead of your usual products, or a break from make-up.
4. Perfect Your Sun Protection Strategy
A sun protection strategy is not only the best way to prevent skin cancer, but also photo-aging and wrinkles. Wearing daily sunscreen with SPF is one of the most effective ways to preserve your skin.
Sun protection involves avoiding the sun unless absolutely necessary, wearing UPF clothing, and wearing daily SPF.
You can give your sun protection a boost by applying a serum antioxidant like niacinamide (vitamin B3) or topical vitamin C underneath sunscreen. The antioxidants work by absorbing "free radicals" which are responsible for the damaging effects of UV light.
5. Maintain a Healthy Diet
A healthy diet can have a great impact on skin health. More research is demonstrating that consuming pre, pro, and postbiotics and whole foods help with maintaining the skin microbiome. This ultimately makes the skin less prone to infection and skin-related ailments.
Start Prioritizing Your Skin Today
Which of the above 5 steps is something you'd like to work on this year? To keep your skin sun-safe all year round check out our collection of sunscreen and UPF 50+ protective clothing and swimwear online.