9 Best UV Clothing Options for Women
Today, UV Skinz goes over how UPF swimwear and clothing can help you stay protected from the sun all year round in our 9 Best UV Clothing and Swim Wear Options blog. Learn why so many people are choosing this type of clothing over sunscreen when it comes time to protect themselves from the sun.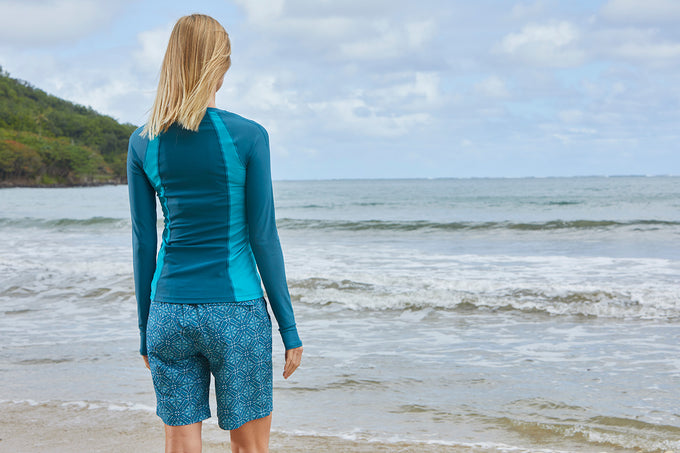 Sometimes sunscreen doesn't always work, let's be honest. We forget to reapply it after jumping in the water or we don't apply enough of it and end up getting sunburnt anyways. While getting your daily dose of sunshine in is a good thing, you can also damage your skin if you spend too much time outside. So, how do you protect your skin from the sun then?
Today, UV Skinz goes over how UPF swimwear and clothing can help you stay protected from the sun all year round and why so many people are choosing this type of clothing over sunscreen when it comes time to protect themselves from the sun. 
We created a list called 9 Best UV Clothing/Swimwear Options for Women to get us started. 
Why UPF Swimwear/Clothing Instead of Sunscreen?
Now, you can always use sunscreen and UPF swimwear together; however, many people like UPF articles of clothing better as they cover more of your skin and don't need to be reapplied like sunscreen. 
Plus UPF swimwear covers larger areas of your body, like your torso, arms, and legs, so you don't have to keep buying sunscreen and reapplying it to protect those parts.
The Best UV Clothing/Swimwear for Women 
1. Women's UPF T-Shirts and Sun Shirts
Women's UPF t-shirts, UV shirts, also known as swim or sun shirts, protect you from the sun's harmful rays which can damage your skin and even give you skin cancer later on in life. Look for a UPF sun shirt with a UPF rating of 50+, the best sun protection rating you can find.
You also want to find a women's UV shirt that's breathable, durable, and can withstand saltwater and chlorine without fading or losing quality over time. You will be wearing this in the water and out under the sun, so a high-quality fabric is the way to go. 
Our women's sun and swim shirts have a UPF 50+ rating, are third-party tested for quality, come in buttery soft fabric, and are also saltwater and chlorine resistant. 
2. Women's UPF Swimsuits
For the active woman who loves being in the ocean, out on the boat, or snorkeling with her loved ones, a women's UPF swimsuit is a must! Spending a lot of time under the sun can cause premature aging, sun damage, and even melanoma, so be careful out there. 
We recommend finding a swimsuit that will keep up with you and fits your style, Our women's UV one-piece swimsuit is very modest, so it covers most of your skin, and also protects you from the sun's harmful rays with its full coverage. This UPF swimsuit is well-loved by women in their 20s to their 80s thanks to its high-quality fabric, flattering fit, and UPF 50+ rating. 
 
3. Women's UPF Dresses and Cover-Ups
Outdoor activities call for women's UPF dresses and cover-ups that offer UPF 50+ sun protection. That way you can look your best while protecting your skin from damaging UV radiation.
Our protective women's beach cover-ups prevent the danger of sunburn, skin conditions, and early aging by blocking 98 percent of the sun's UV rays. Additionally, they are resistant to chlorine and salt water, so you may flaunt your style by the pool, or on the beach, without worrying about damaging your outfit.  
4. Women's Maxi Cover-Up Sun Protection Dresses
Women's Maxi Cover-Up Sun Protection Dresses are such an easy-to-throw-on sun protection item to keep up with your active day.
Our maxi beach cover-up is easy to put on, feels so soft to the touch, and is light and breathable. Plus, it has UPF 50+ protection and won't fade over time thanks to its chlorine and saltwater-resistant fabric. This is also a great choice for anyone looking for a more modest sun dress. 
5. Women's Rash Guards
Safeguard your skin not just against the sun, but also against sea urchins, jellyfish, tough surfboards, and sand with a women's rash guard. 
Our women's rash guards offer UV protection and are made of water-safe materials, like spandex and nylon, or polyester. Women love that they get sun protection while also looking stylish in our assortment of short-sleeve and long-sleeve rash guards. 
According to Katarina K in the U.S., "This is absolutely marvelous! I've been looking for something to wear while I swim as I burn easily and this was just the thing!"
6. Women's UPF Activewear
If you enjoy exercising outdoors, search for UPF ratings on your activewear. UPF swimwear and clothing can be used in place of activewear items like t-shirts, long-sleeve shirts, and hats. 
Our Women's Sun and Swim Shirts can be worn during any activity, such as hiking, kayaking, surfing, swimming, doing water aerobics, or gardening outside to offer you sun protection all year round. 
7. Women's UPF Sweatshirts and Jackets
If you're seeking an outer layer of protection to wear while walking on the beach, or want to be extra safe while doing your brisk morning stroll, women's UPF jackets offer super lightweight sun protection.
UV Skinz's UPF hoodies and jackets offer sun protection while also being lightweight and comfortable. These hooded jackets are simple to put on and take off due to their complete zip, which is too cute. They provide comprehensive coverage with stylish sun protection.  
8. Women's UPF Pants
These UPF 50+ pants can give you an extra layer of protection when walking outside, swimming, running on the beach, or snorkeling. Our UPF swim pants have a comfortable elastic waistband, so they fit nicely and won't cut into you when you're doing all the activities you love. Plus, they come in sizes XS to 4XL, so you're sure to find your favorite style in your favorite fit. 
9. Women's UPF Shrug
For those days under the sun, when you just want to throw on a sun shawl, shrug, or bolero, be sure to find one with UPF coverage. UV Skinz's UPF shrugs are so cute you won't want to take them off! Plus, they come in a variety of colors, styles, and sizes, so you can easily find the perfect one for you. 
Women who love modest swimwear love these as well as they provide an additional layer of coverage.  
Summary
Keep in mind that swimsuits in brighter and deeper hues are better suited to absorb UV radiation, making it more difficult for it to reach your skin.
Now that you better understand women's UPF swimwear, it's time to purchase your first UPF swimsuit and take advantage of the summer season ahead.
Feel free to browse our collection of women's UV swimwear online today.