UPF Clothing: What UPF Rating Is Best?
UPF clothing at a 50+ rating can protect you and your family from harmful UVA and UVB rays. Learn all about sun-protective clothing, including what to look out for when shopping for swimwear, and more on the UV Skinz blog today.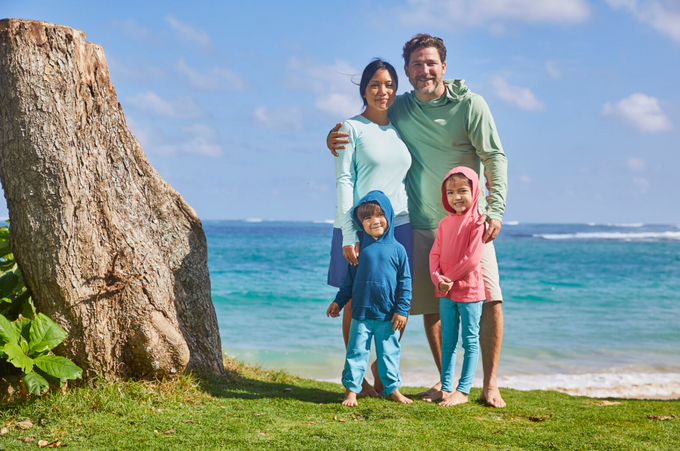 While sunscreen and sitting in the shade are effective ways to protect yourself from the sun, UPF clothing provides an additional layer of protection - especially if you spend a lot of time outdoors or have a history of skin cancer. In this blog post, we explore the importance of UPF clothing as well as which UPF rating you should look out for when purchasing sun-protective clothes. 
According to the Centers for Disease Control and Prevention (CDC), UV exposure can cause health risks, including skin cancer, so covering up appropriately is one of the best ways to keep yourself safe while still doing all the outdoor activities you love. This is where UPF clothing can help. If you're unfamiliar with UPF clothing and how it can help stop premature aging and skin cancer, keep on reading. 
Today, we explain the importance of UPF clothing, how it differs from SPF clothing, as well as how to choose the right sun-protective clothing for you and your loved ones. Hint: it involves choosing UPF clothing with the highest UPF rating. 
What Is UPF Clothing? 
UPF, or Ultraviolet Protection Factor, refers to how much ultraviolet (UV) radiation a fabric blocks from the sun. It's the sun protective rating system used to measure how effective fabric is at blocking UV rays from the sun. It's a bit like SPF (Sun Protection Factor) which we use for sunscreen, except UPF is used to rate clothing.
UPF Versus SPF: What Is the Difference? 
In case it's still a bit confusing to you, we're going to go over the difference between UPF and SPF. While both refer to types of sun protection, they measure different things. 
SPF (Sun Protection Factor) measures how effective sunscreen is at blocking UVB (ultraviolet B) rays also known as the rays that give you sunburns. 
UPF (Ultraviolet Protection Factor) measures how effective a fabric is at blocking UVA (ultraviolet A) and UVB rays from the sun. UPF's rating system is more comprehensive as well and considers a fabric's wear and tear over time.
So, what's the main difference between SPF and UPF? UPF clothing provides protection against both UVA and UVB rays whereas SPF only provides protection against UVB rays. 
What's the Difference Between UVA and UVB Rays?
The main difference between UVA and UVB rays is that UVA rays have long wavelengths and can penetrate deeply damaging the skin and leading to premature aging and skin cancer development. UVB rays have short wavelengths, cause sunburns, and are known in the medical community as the primary contributor of skin cancer. 
Hot sunscreen tip: you want to use broad spectrum sunscreen as it protects against both UVA and UVB rays. 
What Level of UPF Is Best for Sun Protection?
Here's the Skin Cancer's Foundation's seal of recommendation on UPF clothing: UPF clothing between 30 to 49 offers good protection, but the best is rated as UPF 50+. This is best explained below: 
What Does UPF 50+ Mean?
UPF 50+ means the following: it is the highest or best Ultraviolet Protection Factor for fabrics, such as swimwear and clothing. UPF 50+ means that only 1/50th (around 2%) of ultraviolet radiation from the sun will be able to penetrate through your clothing's fabric to your skin. Swimwear and clothing with a UPF 50+ rating offer excellent or best-in-class sun protection. 
What Are the Benefits of UPF Clothing?
It's important to wear UPF clothing if you spend a lot of time outdoors, especially if you enjoy being outside at the beach. UPF clothing can help save your life and lets you stay out in the sun longer without having to worry about sunburns, eye damage, and even more serious health concerns, like skin cancer. Here are the main reasons we love UPF clothing: 
Reduces the risk of sunburn.
Helps protect individuals with sensitive skin.
Provides protection from UV radiation, which can cause skin damage, premature aging, and skin cancer.
Protects your eyes from the sun.
Provides a better alternative to sunscreen – especially for those allergic to sunscreen or those of us who forget to reapply it (we get it, we all do it from time to time).
Gives you peace of mind knowing you're getting continuous sun protection while outside. 
Unlike sunscreen, which you need to reapply, UPF clothing keeps you protected from the sun's harmful UV rays all day. Also, have you ever missed a spot when applying sunscreen and gotten an uncomfortable sunburn? It's hard to do that with UPF clothing since there are plenty of options to choose from that cover every part of your body from your face to your neck, torso, and legs. 
What Should You Look for When Choosing UPF Clothing? 
When it comes time to choose UPF clothing for your next beach getaway or outdoor activity, how do you know which brands to trust? We've got you covered – quite literally to be honest. 
Here are some tips to help you choose the right UPF clothing for your needs: 
Look for a high UPF rating, we recommend 50+, as the higher the UPF rating, the more protected you will be. 
Check for the Skin Cancer Foundation's Seal of Approval. A fabric must have a UPF of at least 30 to qualify for this Seal of Recommendation. 
Keep an eye out for fabric quality. You want UPF clothing that is made well so it will sustain wear and tear from the sun and ocean. Look for tightly woven fabrics. 
Check to see if the UPF fabric is moisture-wicking, which will help keep you cool and dry.
Be sure to remember accessories, such as sun protection hats, sun sleeves and gloves, and UV sun wraps for complete sun protection. 
Check to see if the brand does third-party testing. 
Best UPF Clothing for Sun Protection 
When it comes time to pick the best UPF clothing for sun protection, you want to keep these factors in mind: 
Choose UPF clothing that covers more, not less, of your skin. 
Be sure to wear a hat to protect your face. 
Find UPF clothing that is made from high-quality fabric. 
Look for breathable fabrics and/or moisture-wicking fabrics, which will keep you cool.
Find UPF clothing with a rating of 50+ to protect yourself from UVA and UVB rays. 
Feel free to check out our best-selling UPF clothing at UV Skinz for some additional suggestions. All our UPF clothing is rated at 50+, approved by the Skin Cancer Foundation, and third-party tested.
How to Find UPF Clothing for the Entire Family
When looking for UPF clothing your entire family will love, be sure to check out a brand that's well-known for its commitment to quality UPF clothing at all stages of life. Here at UV Skinz, we offer a wide variety of UPF clothing for men, women, kids, and babies to keep everyone in your family protected from the sun. 
We also recommend finding a brand that uses third-party testing. We do that here so we can confidently say that our UPF clothing has been clinically tested to block 98% of UVA and UVB sun rays.
UPF clothing is a great option for those looking for an effective way to protect their skin from the sun. Remember to choose articles of clothing with a high UPF rating that are third-party tested and made from high-quality fabrics. With the right UPF clothing, you can enjoy the sun without sacrificing your skin's health. 
Be sure to check out our newest women's UPF clothing as well as our men's latest UPF clothing arrivals today before they're gone. We offer free shipping on all U.S. orders.