Everyday Sun Protection Tips for Kids
Teaching your kids about the importance of sun protection can have a major impact on their life. Use these tips to help them understand why they need it.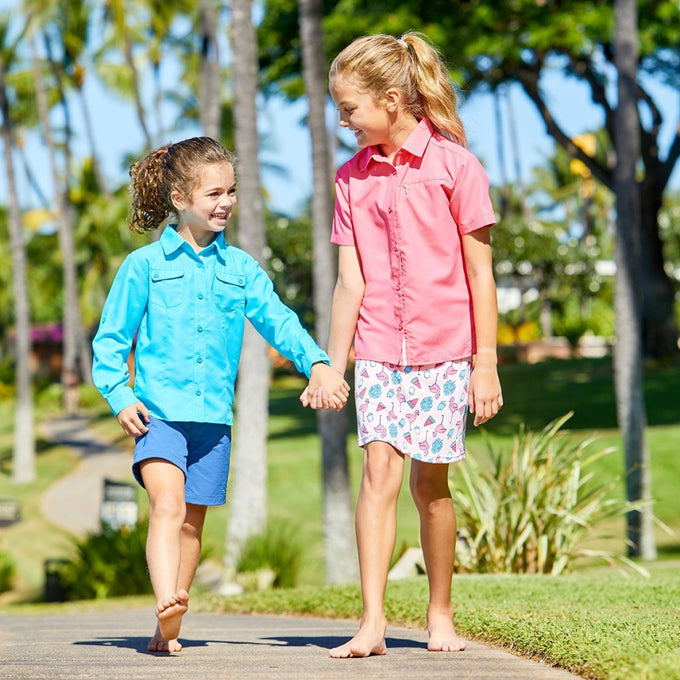 Did you know that just one blistering sunburn during childhood can double your chances of developing skin cancer or melanoma later in life? We know that protecting your children from preventable diseases is important. So, how do we show our children the benefits of good sun-safe habits?
Healthy sun protection habits need to be taught, practiced and modeled in order for children to learn and grow up with knowledge about how to protect themselves from skin cancer.
We have a few tips on how you can incorporate sun-safe habits into your everyday life.
From an early age and well into the teen years help your kids become aware of UV sun safety by encouraging them to pause and assess their surroundings before going outdoors. Limit play time during peak hours of the day when the sun's UV rays are the strongest (10am-4pm). A fun way to check the intensity of the UV rays is to check your shadow! Take a quick step outside and follow this rule, "Short shadow? Seek the shade." When their shadow is shorter than their height the sun's UV rays are more likely to cause a sunburn. Use this rule to begin the conversation about what it means to get a sunburn, why it's harmful to our skin and what they could do to prevent them.
Which brings us to our next tip; talk to your kids open and honestly about sun protection. Too much sun (especially unprotected) can hurt your skin now and cause problems in the future. Don't underestimate their ability to understand the importance of sun protection while they're young. Show them pictures of what can happen (premature aging, skin problems, etc.)
Creating sun-safe habits early on makes it easy to practice sun protection every day.
Set a good example. Follow your own sun-safe routine everyday and your children will follow your lead. Be consistent, creative and inventive! If you ask your child to wear sunscreen, a hat or uv-protective clothing then make sure you're doing the same. When you're out having an outdoor adventure; make or seek the shade. Find a tree to relax under or bring an umbrella or portable tent along with you. Just like you have an emergency car kit, create a Travel Sun Protection Kit.
Make sure that your kit includes all of your sun protection essentials:
Sunscreen with SPF 30 or higher
Lip balm with SPF 30 or higher
Hat with a wide brim (We offer some great styles and all have uv-protection. Check them out and get free priority shipping now!)
Long-sleeved shirt
Sunglasses with UV protection
Re-apply your sunscreen often, especially when you sweat or get wet. For a while it will be up to you as the caregiver to remind your child when it's time to re-apply their sunscreen, but over time they will learn "when they sweat or get wet" that more sunscreen is needed. (Always follow your sunscreen package instructions.)
One last tip is to have fun in the sun! We know that a daily dose of sun is beneficial to our mental health. Don't be afraid to enjoy the outdoors, but if you are outside longer than 15 minutes then protect your skin. UV Skinz makes sun protection easy by providing affordable everyday sunwear uv-protective clothing options with your lifestyle and health in mind. Check out our new Resort and Travel Collection for men, women, children and babies. Let us know what you think!