Must-Have UPF 50+ Gardening Clothes for Women
Even gardeners need to protect their skin from the sun! Check out UV Skinz's must-have UPF 50+ gardening clothes for women, including the best sun-protective gardening accessories.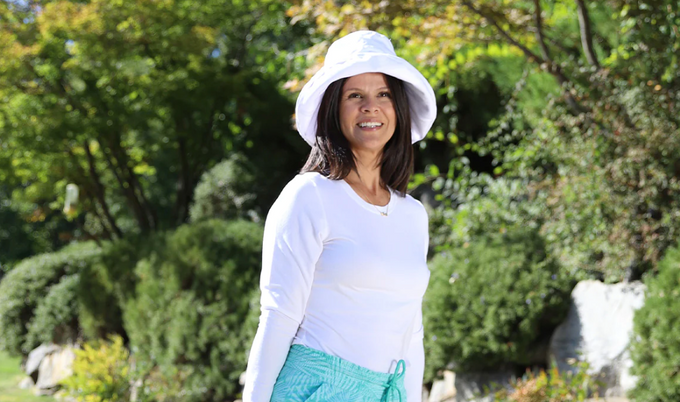 Gardening is a common and well-loved pastime among many women of all ages as it helps connect you with nature - and lets you grow your own produce! However, as you get your green thumb on, it's also important to remember to be aware of sun-safety too. Prolonged exposure to the sun's UV rays can lead to sunburns, premature aging, and even skin cancer.
To ensure you're staying sun-safe during all your gardening pursuits, we've created a list of must-have UPF 50+ gardening clothes for women. Check out our list of cute, functional, and sun-protective clothing items below.
UPF Hats for Gardening
A wide-brimmed, women's UPF 50+ rated sun hat is the perfect sun accessory for any gardener. Not only does a wide-brim hat shield your face, neck, and ears from the sun's rays, but it also keeps you cool and comfortable while out in the garden. Look for hats with a UPF rating of 50+ and a wide brim that covers your entire face for maximum UV protection.
UPF Gardening Shirts/Jackets
Invest in lightweight, long-sleeve gardening shirts or jackets that are certified UPF 50+ to provide optimal UV protection for your arms, shoulders, and upper body. UPF shirts/jackets are designed to block harmful UVA and UVB rays while still offering breathability and moisture-wicking properties, ensuring you stay dry and comfortable while tending to your garden.
Note: While we specialize in UPF 50+ swimwear, many of our beach wear and swimwear items can also be used on land too! In fact, all of our UPF sun shirts are perfect for gardening!
UPF Gardening Capris/Pants
UPF gardening capris or pants are an excellent choice for shielding your legs from the sun as well as protecting your knees while plucking weeds and trimming flowers. Look for pants made from breathable, moisture-wicking material, so they're easy to move around in and comfortable.
Don't forget to protect your hands from the sun's UV rays too. UPF 50+ rated women's sun gloves made from lightweight, breathable material provide excellent sun protection while allowing you to maintain your dexterity and grip. Look for gloves with reinforced fingertips and palms.
UV Skinz has a variety of fun colored sun protective gloves in various sizes to best suit you.
For an additional layer of sun protection, consider UPF arm sleeves. These bamboo sun sleeves are perfect for days when it's especially hot outside and you want to wear a short-sleeve shirt but still want to shield your arms from the sun.
These sun sleeves are made out of super breathable bamboo viscose fabric with thumbholes to keep your hands sunburn free. As melanoma can show up on your hands, it's important to keep them covered from the sun as well.
A UPF neck gaiter has multiple uses for gardeners. Not only does it shield your neck and face from the sun, but it can also be worn as a headband or used to wipe sweat off your face while outside.
It's so important to prioritize your skin's health and safety from UV rays while doing the outdoor activities you love. Fortunately, there are plenty of cute, versatile, and comfortable sun protective gardening clothing items available to make this easy.
From wide-brimmed sun hats and long-sleeve shirts to UPF 50+ gloves and arm sleeves, incorporating these sun protective garments into your gardening routine is always a good idea. Stay protected from the sun whenever possible! Remember sun safety is not an after thought.
Be sure to check out our entire women's collection of UPF 50+ clothing to ensure you're staying sun safe all year round.