Pool Towels and After Swim Products for Kids
Learn all about the best pool towels for kids as well as what after-swim clothes you can get to keep them warm and protected from the sun all year long on the UV Skinz blog today.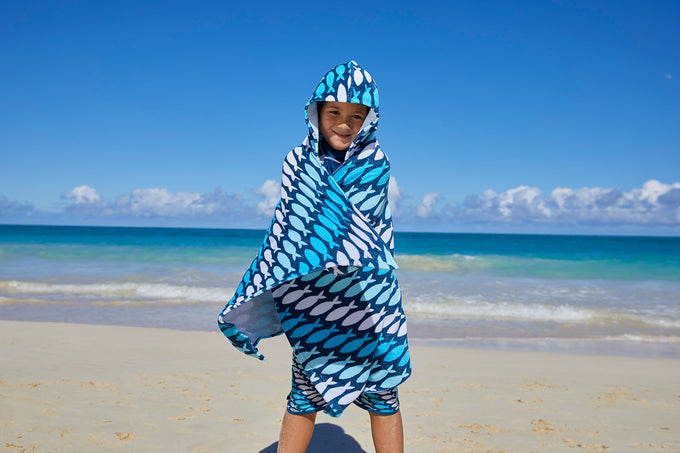 No matter how hot the day, getting out of the pool or sitting on the beach after a swim can be a bit chilly, especially for your kiddos.
For a comfortable transition from the water back to land, be sure to wrap your little one in the best-in-after-swim products, like super soft hooded towels and UPF jackets. 
Today, UV Skinz goes over the best pool towels and after-swim products for kids. 
Best Pool Towels for Kids
Kids Hooded Towels with Sun Protection
Kids love spending time outdoors, but it's essential to make sure they're protected from the sun after a dip in the pool or ocean. Hooded towels for kids are some of the best and most loved ways to do this. Here's why our kid's hooded towel is a fan favorite: 
Blocks 98% of UV rays
Soft, absorbent fabric
Comes in fun designs
Machine washable and easy to care for
Prevent sunburns
Plush Beach/Pool Towel 
UV Skinz's plush beach or pool towel is a great towel for kids who love to steal their parent-sized beach gear. You can lay this out and comfortably fit you and your little one or let your kid have the whole thing! Here's why we love this towel for kids: 
Fluffy and plush 
UPF 50+ rating
Perfect size for you and your little one
Contains sun tips on the towel itself
After-Swim Clothes to Keep Your Kids Warm
If you're looking for more after-swim products to keep your kids warm after getting out of the ocean or pool, check out our sun-protective hoodies and jackets. These provide lightweight coverage and are comfortable and warm without being too bulky. Our jackets for kids are great for layering and can be worn over a swimsuit or rash guard on cooler days. 
Check out some of our after-swim clothes for your kids here: 
Girl's Zip-Up Hoodie
Boy's Zip-Up Hoodie
If you're planning a pool or beach day with your kids, don't forget to pack pool towels and after-swim clothes to keep them warm, like zip-up jackets. 
By packing these essential items, you are sure to have a fun and safe time under the sun. Shop all of our beach towel cover-ups for kids at UV Skinz today!