Saving Thousands of Babies from Sunburn this May!
Its officially that time! During the entire month of May, UV Skinz will include a My First Skinz "What's a Sunburn?" UPF 50+ Baby Sun Shirt (size 12/24mo) FREE with EVERY order placed.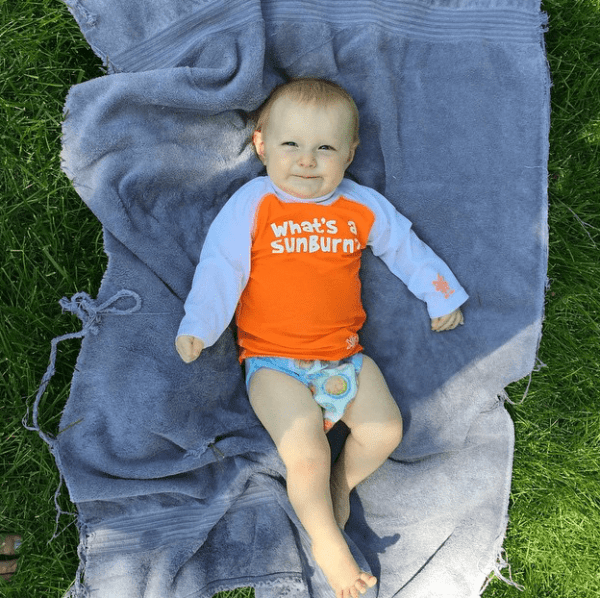 Its officially that time! During the entire month of May, UV Skinz will include a My First Skinz "What's a Sunburn?" UPF 50+ Baby Sun Shirt (size 12/24mo) FREE with EVERY order placed.
Greetings everyone!

It's that time of year again when the media and powers that be have determined that it's a good time to bring extra awareness to skin cancer, and melanoma in particular.
Although I am passionate about spreading awareness about sun protection all year long, I am grateful for this additional exposure and the opportunity to reach more of the masses. The American Cancer Society has coined May as 'Skin Cancer Awareness Month' and we've taken this opportunity (for the 9th year in a row!) to do our part in raising awareness by holding our Annual Save a Baby's Skin Campaign, where UV Skinz includes a free sun protective 'My First Skinz' baby sun shirt with every order placed on our website. We encourage our customers to 'pay-it-forward' and give their free sun shirt to a favorite little one in their life, whether it be a friend, neighbor, relative or even their own child.
As some of you may or may not know, at the age of 32, I lost my husband Darren, to melanoma-the deadliest form of skin cancer. The unexpected loss of my husband and the reality that I was now a single mother to three little boys left me completely devastated. This personal tragedy gave me an undeniable drive to prevent other families from experiencing the same fate my family had. After working through the grieving process and several years of research and development, UV Skinz was born: a sun protective clothing line for the entire family that allows men, women, and children to live safely under the sun while enjoying the incredible outdoors!
Providing our high quality, affordable sunwear products is only one aspect of my passion for sun protection. I am equally excited about educating families about the potential dangers of the sun by instilling a message of 'prevention'. One blistering sunburn before the age of 15 more than doubles the risk of developing melanoma later in life and 1 out of 5 Americans will be diagnosed with some form of cancer in their lifetime. 95% of skin cancers are preventable with proper sun safety measures and what better place to start instilling these good habits than with the newest members of the families. This is why I get so excited to give away our baby sun shirts as I know we have the potential to really make an impact on eradicating this disease. I believe wholeheartedly that no child should ever know the pain of a sunburn!
All of us at UV Skinz work daily to spread the message of sun protection and know that one less sunburn really DOES make a difference. Thank you for joining us in our mission to get kids covered!
To Sun Safe Days
Rhonda Sparks
CEO/Founder, UV Skinz
To receive your FREE Baby Sun Shirt, simply make a purchase at www.uvskinz.com during the month of May and a UV Skinz limited edition "My First Skinz" Baby Sun Shirt (size 12/24 mo) will be automatically included in your order! No coupon code necessary or minimum purchase required. For more information on this campaign, please click here.
*All photos included in this post were shared with us by happy customers on social media or via email. To share pictures of your sun-safe cuties be sure to tag your posts with #MyFirstSkinz.