These "Selfies" Could Save Your Life: iPhone Apps for Skin Cancer Exams
When detected early, skin cancer can be highly treatable. See how these 5 apps can help you with your at-home skin cancer self-exam each month to prevent skin cancer.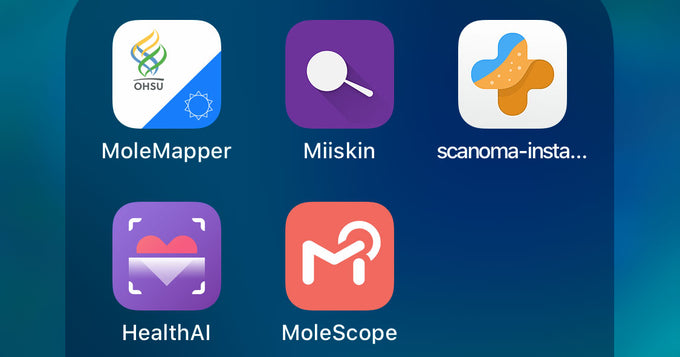 Skin cancer is a serious threat. One in five Americans will develop skin cancer in their lifetime. Fortunately, it's pretty preventative - with proper care. Today, we go over why skin cancer exams are so important as well as 5 iPhone apps that can help you detect early signs of skin cancer on our blog. 
Why Are Self-Exams Important When it Comes to Preventing Skin Cancer?
The key to ensuring you don't get skin cancer is regular self-exams. The Skin Cancer Foundation recommends monthly skin cancer self-exams, plus annual professional dermatologist exams.
Those self-exams can get a bit cumbersome. Logging everything by hand on a paper body map is a lot of work. Then there is the organizing and labeling of dozens of mole photographs each month.
This is where your iPhone steps in.
Some very smart people have developed numerous iPhone apps that make skin cancer self-exams easy. These apps combine your phone's camera, calendar, and notifications to log photos and set exam reminders.
Today, we go over 5 iPhone apps for skin cancer self-exams. 
5 iPhone Apps for Skin Cancer Self-Exams
Each app goes about helping with self-exams in different ways. They each have their own key features and pricing structure. Here are the 5 iPhone apps to help you detect skin cancer:
This is a completely free app developed by the Oregon Health & Science University (OHSU). It allows you to map, measure, and monitor moles through photos taken with a coin for reference.
Unique to this app, you can submit your mole photos to researchers at OHSU. This means that your self-exams could benefit others, too.
This highly popular app is also for monitoring changes in your skin and moles. There is a free version with limited close-up photo mole logging. For $24.99 a year, Premium subscribers get unlimited close-up logging, and the ability to photo journal large areas of skin.
UMSkinCheck (free, also available on Android)
UMSkinCheck is free mobile application that helps you conduct a skin cancer self exam. It also allows users to complete and store a full body photographic library, track detected moles/lesions, download informational videos and information and locate a skin cancer specialist.
MoleScope takes iPhone skin cancer self-exams to the next level with their own hardware. The MoleScope is a magnifier that attaches to your phone for better quality mole photos. Their app is made to work exclusively with that $299 device.
Scanoma is a skin health screening service. Their app is an extension of those diagnostic services. The app evaluates your mole photos to calculate skin cancer risk. A second opinion from a professional dermatologist is just a click and $15.99 away.
99% of all skin cancer cases are curable if caught and treated early. That requires monthly self-exams. These apps make those exams so easy, you will actually do them!
Remember to stay sun safe and be sure to subscribe to our email list for more skin cancer prevention tips!