A Parent's Guide on Choosing the Best Baby Travel Clothing
Traveling with a new baby can be exciting and also challenging. Learn all about what to pack when traveling with your little one on the UV Skinz blog today.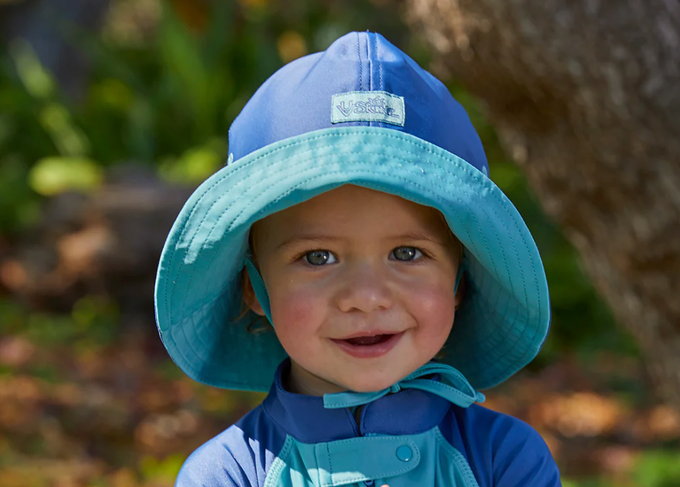 It's a big deal when you start traveling with your little one. While it can be very memorable and special, it also comes with its own set of challenges. One of which is to ensure your baby is comfortable and safe while traveling - whether that's on a flight, boat ride, or road trip. 
In this guide, we'll walk you through the important factors to keep in mind when curating your baby's travel wardrobe.
What Is Baby Travel Clothing? 
Baby travel clothing is designed to keep your little one safe and comfortable while traveling. This type of clothing is usually lightweight, breathable, safe and functional, making it the perfect type of attire for long travel days. 
Factors to Keep in Mind When Choosing Baby Travel Clothing
There are certain factors to keep in mind when choosing baby travel clothing to keep your little one safe and comfortable no matter what your travel day brings. 
Comfort
When it comes to baby travel clothing, comfort should be your number one priority. Babies have sensitive skin and often struggle to communicate their discomfort, so choose soft, breathable fabrics to keep them happy. 

We love soft sun-protective baby blankets for long plane rides and road trips too as they will keep your little one comfy and sun safe. We even offer UPF 50+ rated car seat covers to keep your little one shaded and comfortable when driving to your travel destination!
Versatility 
Traveling often means a change in weather, so you want to find easy, versatile travel clothing that gives you layering options. Lightweight jackets, comfortable cotton t-shirts, and onesies are all great options. 
Helpful tip: Pack an extra onesie in your carry-on in case your baby has an accident on the plane.
Practicality 
The ability to easily and effortlessly change your baby while on the plane, in a bathroom, or on the train is a must-have while traveling. Find travel clothing that's easy to put on and take off. 
Look for onesies with snaps, jackets with zippers, and t-shirts and hoodies that are a breeze to take off. The last thing you want to have happen is to get a hoodie stuck on your baby's head on a plane!
We also recommend quick-drying travel clothing for babies as when you travel you often have to wash your clothes on the go. 
Sun-Safety
Baby UPF 50+ travel clothing is an absolute must at all times. Keep your baby's skin safe from UV rays by looking for UPF travel clothing. We recommend sun-protective onesies as well as a wide-brim hat to keep your little one sunburn free. 
Style
Pair practicality with style by choosing stylish baby travel clothing that keeps your baby comfortable while also keeping him/her looking cute. Opt for travel clothing that matches or comes in a variety of adorable prints and colors. 
Best Travel Clothing for Baby Boys
When it comes time to choose travel clothing for your baby boy, keep comfort, sun-safety, style, and versatility in mind. 
We love our baby bamboo sun legz as you can easily put them on over your baby's legs while in transit to provide easy sun protection on the go!
Best Travel Clothing for Baby Girls
Keep your little girl happy and protected from the sun by choosing from our seleciton of UPF 50+ travel clothing for girls. We love how versatile and comfortable the baby girl UV sunzie is, and the snap closure at the bottom means easy diaper changes from anywhere. 
Best Baby Travel Sunscreen 
As it's recommended that babies under 6 months old shouldn't wear sunscreen in most cases, your little one should wear sun-protective clothing, including a wide-brimmed hat instead. Babies older than 6 months old as well as toddlers should wear braod-spectrum sunscreen with an SPF of 30+. 
The best baby travel sunscreen should be easy to pack and easy to apply. We recommend our sunscreen sticks for these reasons. Make sunscreen applications quick and easy while traveling to save time and keep your little one sun-safe.
Be sure to check out our collection of baby boy UPF travel clothing and baby girl UPF travel clothing online today.