Fall Sun Protective Clothing Essentials for Women
Sun protection during the fall season is just as important as any other time of year. Discover stylish sun protective clothing essentials for women just in time for autumn on the UV Skinz blog today.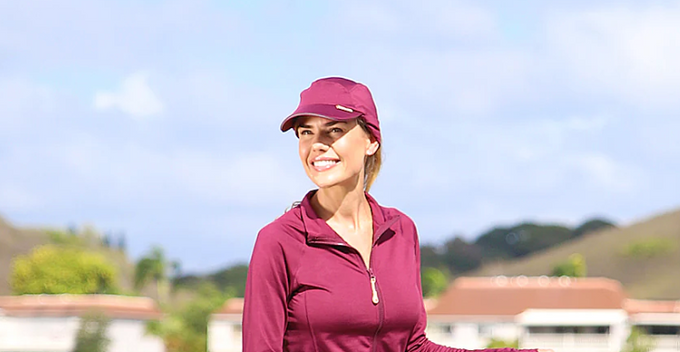 While the sun's UVB rays are stronger during spring and summer, UVA rays are just as strong all year round regardless of the season. This is why sun protective clothing is just as important as the weather starts to cool down and fall approaches. 
In this post, we'll explore the importance of sun protection during the fall season and share some must-have stylish fall clothing essentials for women.
Why Sun Protective Clothing Matters in Fall 
Autumn often comes with cooler temperatures and more comfortable weather, which means more outdoor activities! However, while it is cooler out during this time, that doesn't mean you're safe from UV rays. While the sun might not feel as intense, UV rays are still present during fall as well. 
In fact, did you know that even on cloudy days UV rays can still reach your skin, cause sunburns, premature aging, and increase your risk of skin cancer?
Additionally, the ground and surfaces, like the sidewalk, sand, water, and snow, can reflect UV rays, intensifying their impact. According to the American Cancer Society, UV rays can even bounce off grass leading to an increase in UV exposure!
Make sure that you can enjoy all your favorite fall activities like nature walks, apple picking, and cycling, by wearing proper sun protective clothing to protect your skin. 
Sun Protective Clothing for Autumn: What to Look For
When looking for sun protective clothing for fall, you will want to keep a few tips in mind to ensure you're choosing the best UPF attire you can find. Here's a list to help you out.  
UPF Rating: UPF (Ultraviolet Protection Factor) is to clothing what SPF is to sunscreen. Look for clothing items with a high UPF rating, like a company like UV Skinz that has clothing that's certified UPF of 50+, which is considered excellent at protecting you from UV rays.
Comprehensive Coverage: Choose UPF clothing with long sleeves, like long-sleeve shirts and jackets. Opt for longer pants as well that provide more coverage to keep yourself sun-safe. 

Wide-Brimmed Hats: A wide-brimmed hat not only adds flair to your fall outfit but also shields your face, neck, and ears from direct sunlight. Fleece hats are an excellent choice for the season.
 Sun Accessories: Choose sun accessories with a UPF rating that you can easily throw on for effortless sun protection on the go. Think sun scarves, sun hats, and sun shawls, which can also add additional style to your outfit. 
Lightweight and Breathable Fabric: Choose UPF clothing made out of lightweight, breathable, and moisture-wicking properties to keep you cool, protected from the sun, and comfortable while doing all the outdoor activities you love. 
Best Sun Protective Shirts for Fall
We love these UPF 50+ long-sleeve shirts for the fall season. Stylish, comfortbale, and easy to pair with a jacket and pants, it's easy to create your perfect autumn outfit with these. 
Soft, lightweight, breathable, and buttery soft, these are sure to become a big part of your fall wardrobe staples. 
Best Sun Protective Jackets for Fall
Sun protective jackets meet style with this collection. We love the soft fleece, which is perfect for anything from walking to yoga class to hiking to going running with your girlfriends. 
Our UPF hoodies make sun protection on the go easy and conveinent too as they come in versatile colors you can pair with anything in your closet. 
Best UPF Pants for Fall 
Choose from a variety of sun protective pants for your favorite fall activity, whether that's going for a long hike in the woods or going out to lunch with your friends. There's a pair of UPF pants here that will work well with your lifestyle.  
Fall Sun Protection Tips for Women
Remember these fall sun protection tips for women as the seasons start to change: 
Accessorize Wisely
Remember the importance of keeping yourself sun-safe no matter what activity you're doing. Find polarized sunglasses and sun scarves for those days where you're driving long distances, going for walk, or gardening outside. 
Layer the Right Way
Layering sun protective clothing doesn't mean you need to sacrifice your style. Mix and match your favorite fall pieces with sun protection in mind. A long-sleeve shirt under a cozy sweater can provide extra coverage and comfort. 
Don't Forget the Sunscreen
Remember to put sunscreen on the areas your UPF clothing can't cover, like your face, your neck, your chest, and your hands. And be sure to put on chapstick or lip balm with SPF in it as well. 
As the fall season comes, remember that sun protection remains a year-round necessity. By integrating sun protective clothing into your fall wardrobe, you can enjoy this season without compromising your skin's health.
Stay safe this autumn with sun protective clothing and be sure to subscribe to our email list for more sun safety tips.