Everything You Need to Know About UPF Swimwear
Keep you and your family sun safe and protected from the sun's harsh UV rays with UPF swimwear. Learn everything you need to know about UPF swimwear, including what to look for, what rating is best, how to find plus-size and modest sun protective swimsuits online, and more on the UV Skinz blog today.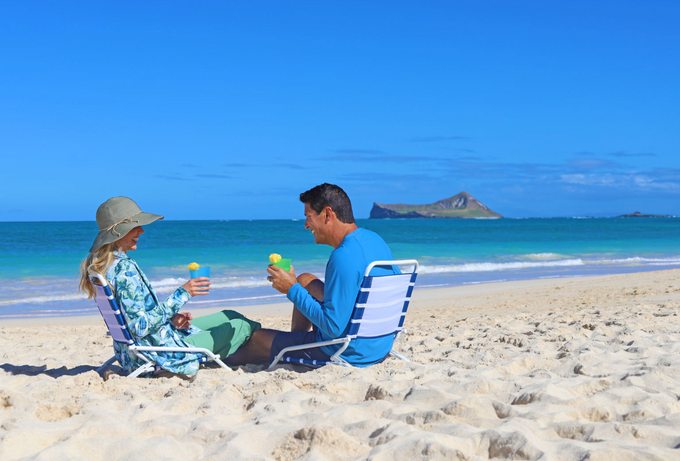 Imagine you're about to head to the beach with your family. You've packed your sunscreen, your towels, your beach umbrella, and your snacks, and you're ready to go!
Then you realize that it's really hot outside, so hot in fact that you can't even sit down on the leather of your car seats! You start to worry about your kids getting sunburned and then remember that your newborn can't even wear sunscreen yet. So, how can you ensure your entire family will stay sun safe at the beach? 
That's where UPF swimwear steps in. Whether you're a new parent, a grandparent, or a babysitter, protect your skin and the skin of the little ones you love so much with sun-protective swimwear.
If you're curious to learn more about UPF swimwear, continue reading to learn everything you need to know about sun-protective bathing suits and more!

What Is UPF Swimwear? 
First off, what is UPF swimwear? UPF (or Ultraviolet Protection Factor) swimwear is swimwear that offers protection from the sun's UVA and UVB rays. The UPF rating lets you know how much UV radiation you will be exposed to while outside.
The highest UPF rating is UPF 50+, which is described by The Skin Cancer Foundation as "excellent" as it blocks 98% of the sun's UV rays, only allowing about 2% to penetrate your skin.
Fun fact: This is the rating you want to see when buying sun-protective swimwear and clothing for yourself and all your loved ones. 

Does SPF Swimwear Exist?
No, SPF swimwear doesn't exist. Contrary to popular opinion and belief, SPF swimwear isn't a thing. This is a common misconception, which is totally understandable, but an SPF rating is used to describe sunscreen, not fabric. UPF is the proper term to use when discussing swimwear with sun protection.
SPF is only used to describe the sun-protective abilities of sunscreen whereas UPF is used to describe how protective a piece of fabric is against the sun's UV rays. Also, SPF only applies to UVB rays, while UPF applies to both UVA and UVB rays.
What Makes UPF Swimwear UPF 50+?
If swimwear has a UPF 50+ rating that means only 2% or 1/50th of the sun's UV rays are able to penetrate through that fabric. Look for a UPF swimwear company that rigorously third-party tests their UPF swimwear and meets the highest standards of UV protection swimwear/clothing, like UV Skinz.
The tag on your swimwear typically lets you know the fabric's UPF rating. Opt for sun-protective swimwear that's non-toxic and chemical-free too!

What's the Best UPF Rating for Sun-Protective Swimwear? 
The Best UPF rating for sun-protective swimwear is a UPF rating of 50+.
Is UPF Swimwear Safe? 
Yes, UPF swimwear is safe and an excellent way to protect your skin from sunburns, skin damage, and skin cancer. Do be wary of UPF swimwear that contains harmful chemicals though and be sure to choose a company that doesn't use chemicals in their fabric.

Some of UV Skinz's UPF swimwear also have UV-detecting zippers to let you know when the sun's UV index is high so you can be sure to put on a UPF sun hat, find shade, and cover up with more UPF beachwear appropriately. 
Is UPF Swimwear Chemical Free?
Some UPF swimwear is coated in chemicals, so be sure to find sun-protective bathing suits with UPF that offer natural protection from the sun. Any UPF swimwear company should be able to provide data on third-party testing to prove this UPF rating. 
All of our UPF swimwear and clothing at UV Skinz is chemical-free. 
Is UPF Swimwear Third-Party Tested? 
We highly recommend purchasing UPF swimwear that is third-party tested so you know that swimsuit was tested to prove its UPF rating. All of our UPF swimwear and clothing here at UV Skinz is clinically tested by third parties to block 98% of UVA and UVB sun rays.
Is Sun-Protective Swimwear Expensive? 
UPF swimwear can be expensive as it's made out of high-quality fabric; however, when it comes to sun-protective swimwear you want to make sure to choose the best fabric possible. Be sure to also choose bathing suits that have a third-party tested UPF 50+ rating. You also want to look for swimsuits made out of high-quality, tightly woven fabric that won't fade or fall apart over time as that reduces the fabric's UPF level. 

To find more affordable UPF swimsuits check out sun-protective swimsuits on sale. UV Skinz's has UV swimsuits on sale for the entire family.
Where Can You Find Plus-Size or Big and Tall UPF Swimwear?
It's not always easy to find inclusive UPF swimwear, but there are some companies that really pride themselves on offering plus-size and big and tall sizes. You can find women's plus-size swimwear and men's big and tall UPF swimwear here at UV Skinz in women's sizes L to 4XL and men's sizes L to 4XL.
Where Can You Find Modest UPF Swimsuits? 
UV Skinz's has many modest UPF swimsuit options, including many modest bathing suits, board shorts, swim leggings, and swim tank tops for women looking for stylish, cute swimwear with more coverage.

What Color Bathing Suits Are Best for Sun Protection?
Dark or bright-colored swimsuits (any dense hue) offer the best sun protection from UV rays.
How Long Does UPF Swimwear Last?
UPF swimwear could last one year or up to 4 years+ with proper care. Here are some tips on taking care of your UPF swimsuits: 
Machine wash your UPF swimwear in

cold

water on a 

gentle cycle

with a

mild

soap/detergent and lay it out flat to dry. 

Do not

bleach, dry clean, or iron your UPF swimsuits.

Minimize UPF fabric damage and color loss by avoiding extended periods in hot tubs.
Avoid sitting on or rubbing your UPF bathing suits against rough surfaces like concrete and swimming pool decks, as these surfaces can snag the material of your swimsuit. 

Do UPF Swimsuits Keep You Cooler? 
Specialized UPF 50+ sun-protective swimsuits can keep you cool on hot, sunny days thanks to their lightweight breathable fabric. Many companies, UV Skinz included, utilize fabrics that are moisture-wicking, like bamboo viscose, so their swimwear is comfortable to wear when it's hot outside - and you're sweaty. 
Does UPF Swimwear Lose Its Effectiveness Over Time?
As a swimsuit's fabric becomes worn or faded, it also becomes less effective at blocking UV light. So, if you rubbed your UPF swimsuit against a pool deck and it snagged, used it as your designated hot tub swimsuit every day for two summers in a row, or you just didn't care for your bathing suit appropriately, then yes, it could lose its UPF rating over time. 

Keep in mind if you care appropriately for a UPF swimsuit, it should last you 1 to 4 years or even longer depending on how often it's worn and washed. 
Should You Wear Sunscreen Underneath UPF Swimwear? 
You don't need to wear sunscreen under UPF swimwear. You may want to wear sunscreen on your face though if you decide not to wear a sun protective hat while outside wearing a UPF swimsuit. 
How to Shop for UPF Swimwear and Accessories
When it comes time to shop for and choose the best sun-protective swimwear, the Skin Cancer Foundation and our team here at UV Skinz, would like you to keep the following factors in mind: 
UPF rating (the Skin Cancer Foundation recommends swimwear with a UPF rating of 30-49, but highly recommends swimwear fabric with a UPF 50+ rating, which is excellent).

Coverage level (UPF swimwear that covers more of your skin is best, so opt for long-sleeve swim shirts and swim pants or leggings if possible).

Fabric thickness (densely woven fabric will provide more protection from the sun's UV rays).

Color (darker colors absorb UV light and offer better protection from the sun)

Comfort level (you want to look for UPF swimwear that's soft and offers 4-way stretch so you'll actually want to wear it while in the water).

Style (find sun-protective swimwear that best suits your style and fashion preferences).

Size (you want your bathing suit to fit well but not too snug as you don't want the UPF fabric to stretch or tear; try and find a UPF swimwear company that's size-inclusive).
Whether you're looking for sun-protective swimwear for your husband, grandson, or sister, we've got something for the entire family here at UV Skinz. Check out our best-sellers for some UPF swimwear inspiration!