Join Our 11th Annual Save A Baby's Skin Campaign
Discover UV Skinz's Annual Save a Baby's Skin Campaign to raise awareness about the dangers of skin cancer and why protecting babies is the first step on our blog.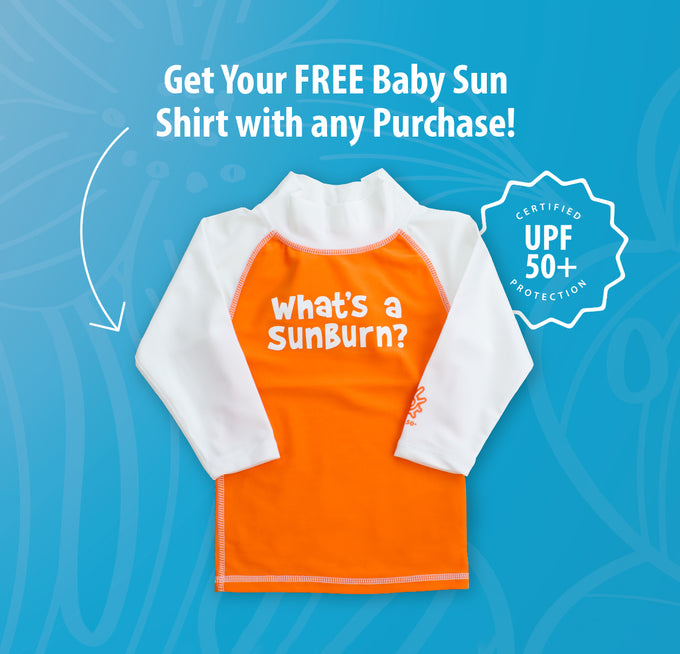 May has practically flown by! It could be all of the fun we are having at UV Skinz headquarters giving away free baby sun shirts as apart of our annual Save A Baby's Skin campaign.
It could also be the amazing feedback from our happy customers. There's one week left to receive a FREE baby sun shirt with your order for the month of May. You still have time to get yours!
Why We Host an Annual Save a Baby's Skin Campaign 
It's important to us that babies benefiting from this program, along with their parents, will be able to say, "What's a Sunburn?" Just one childhood sunburn can more than double your chances of developing skin cancer in adulthood.
When Rhonda Sparks lost her husband to melanoma in 2001, leaving her with three small boys, it was their future health and happiness that led Rhonda to found UV Skinz.
Ever since, UV Skinz has never lost sight of the goal to get kids covered. Teaching our children good sun-safety habits is important so that they continue these practices into adulthood.
UV Skinz makes it easy by providing affordable sun protection that families trust. Every baby sun shirt is UPF 50+ rated, non-irritating on baby's skin and brings out the cutest baby smiles!
Why Babies Need to Protect Their Skin from the Sun
According to most pediatricians, babies under 6 months old should not be in the direct sun at all.
The American Academy of Pediatrics used to advise against the use of sunblock on babies under 6 months, but under new guidelines if adequate clothing or shade are not available, parents can apply a minimal amount of baby safe sunscreen with at least 15 SPF to small areas of an infant's body.
Keeping in mind that lotions and creams should be a secondary choice in sun protection for babies. For infants that regularly spend time outdoors, they should be protected from head to toe. Protecting our children's skin, regardless of the season, is essential to good skin health and safe sun exposure practices into adulthood.
We agree with Rhonda, "No child should know the feeling of a sunburn." We hope you do too!
A very important part of skin cancer prevention is creating awareness.
Creating awareness is all about saving our children's lives in the future. Join us in spreading awareness about our Save A Baby's Skin campaign!
If you have received a baby sun shirt or placed your order, use the hashtag #saveababyskin to share on our Facebook, Instagram or Twitter!
We would love to see all of your adorable babies being sun-safe and saying, "What's A Sunburn?"