Men and Skin Cancer: The Facts You Should Know
Studies have shown that men are more likely to develop skin cancer than women. Learn all about men and skin cancer facts as well as how you can help your loved ones stay protected.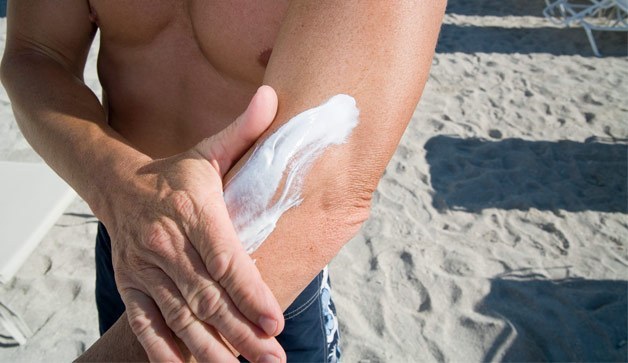 Studies have shown that women are more proactive about monitoring and maintaining their general health than men, and this is especially the case in relation to applying sunscreen and getting their skin checked for skin cancer. Men often neglect sunscreen for various reasons, which make them more susceptible to sunburns and sun damage later in life. 
But according to some eye-opening skin cancer statistics, men need to do even more to protect themselves from the dangerous effects of too much sun exposure.
Between outdoor work and recreation, men on average accumulate more unprotected sun exposure than women but are less likely to wear sunscreen or get their skin checked. This is an important statistic we hope to change by spreading awareness.
Men and Skin Cancer Statistics 
A few more men's skin cancer statistics to be aware of:
Skin Cancer is the most common cancer in American men, and the rate of new cases is rising.
Men are nearly twice as likely as women to die from skin cancer (melanoma).
Men are twice as likely to develop basal and squamous cell skin cancers than women (which if diagnosed, incidentally may increase your risk for developing other cancers).
So what can we do? Ladies: don't be afraid to start nagging! We love our fathers, grandfathers, brothers, uncles, boyfriends, and husbands (you get the point), and much of the general public simply lack the necessary knowledge regarding the dangers of UV exposure and the importance of sun protection and early detection.
So, encourage the men in your life to cover up with UPF swimwear and sunscreen, and to get their skin checked. The 5-year survival rate for melanoma that is detected and treated before it reaches the lymph nodes is 98 percent. This is great news for early detection efforts, so we must keep spreading the word!
How Men Can Protect Themselves from Getting Skin Cancer

Fellas, what can you do to protect yourself from getting skin cancer?
Firstly, don't be stubborn and put off getting checked by a dermatologist (you should be getting your skin checked by a professional at least once per year). If you notice a mole that itches, bleeds, is tender, or grows, get it checked by a professional immediately, don't wait. This could literally SAVE YOUR LIFE. Be skin cancer aware and remember prevention can save your life. 
In the meantime, protection and prevention are key. Shield your skin by wearing UV protectant clothing, a wide-brim sun hat, and applying a broad-spectrum sunscreen at least 30 minutes prior to sun exposure (make sure to reapply every 2 hours, or immediately after swimming or sweating).
Seek the shade during peak daylight hours (10 AM – 4 PM), wear UV protective sunglasses, and most importantly, monitor your skin for any changes between annual dermatologist visits. You can also do a skin check on yourself as well. 

Practicing sun safety is easy, and everyone deserves to be able to live and have fun outdoors! Be sure to check out our men's UPF swimwear to keep the men in your life sun safe. 
Sources: