Why UPF Shirts Are Better Than Cotton T-Shirts
Learn all about the differences between t-shirts and UPF shirts when it comes to sun protection and why you should go with a UPF shirt every time on the UV Skinz's blog.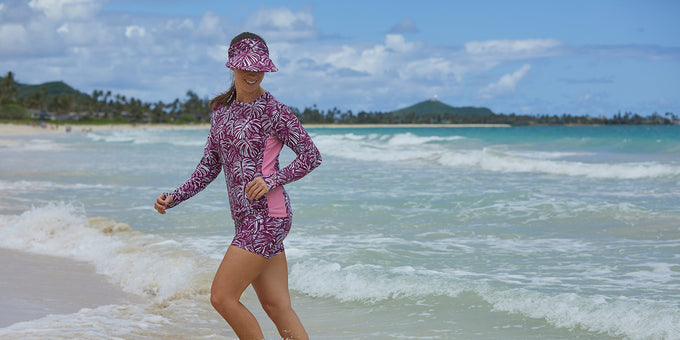 The importance of sun protective clothing like UPF shirts is on the rise as skin cancer is the most common cancer in the United States with estimates of one in five Americans developing skin cancer in their lifetime.
So, how do you protect yourself from the sun and are UPF shirts better than cotton t-shirts when it comes to sun protection?
Today, we go over why UPF shirts are better at protecting you from the sun than cotton t-shirts and how to find UPF clothing you'll love!
Are UPF Shirts Better at Providing Sun Protection Than Cotton Shirts? 
Yes, UPF shirts, especially those with a UPF 50+ rating, are better at keeping you protected from the sun than a regular cotton shirt. 


Are UPF Shirts Worth It?
A dry cotton tee shirt only provides you with an ultraviolet protection factor (UPF) of 7, and when it gets wet that UPF factor drops to about a UPF level of 3, which does nothing to protect you from the sun. 
UPF shirts are worth it! They keep you safe from sun burns and sun damage. You want to find a UPF shirt with the highest UPF rating, which is a 50+. Those shirts will keep you protected from 98% of the sun's harmful UV rays. 
Why Should You Wear a UPF 50+ Shirt?
Today, 90% of skin cancers and premature aging are a result of UV exposure. With skin cancer on the rise, it is important to take a closer look into how to protect yourself from the sun's UVA and UVB rays.
What Should You Look for When Choosing a UPF Shirt?
When looking for UPF protective clothing a good place to start is to look for the Skin Cancer Foundation Seal of Recommendation. This seal shows that the product has been approved by the Skin Cancer Foundation. This foundation looks at product data and testing results including a specific UPF rating and test results acceptable to the AATCC method or AS/NZS standard.
Why Choose UV Skinz's UPF Shirts?
UV Skinz sun protective clothes are stylish and hold a UPF rating of 50+ and carry the Skin Cancer Foundation's Seal of Recommendation. Our UPF clothes, including our UPF shirts are tested and rated to the highest standards for UV fabric.
Be sure to browse our women's UPF clothing/swimwear and men's UPF clothing/swimwear online today.