Sun-Safety While Driving: How to Shield Your Skin During Winter Road Trips
Wintertime means winter road trips to scenic mountain resorts. Learn how to ensure you're sun safe, even on a winter road trip, on the UV Skinz's blog today.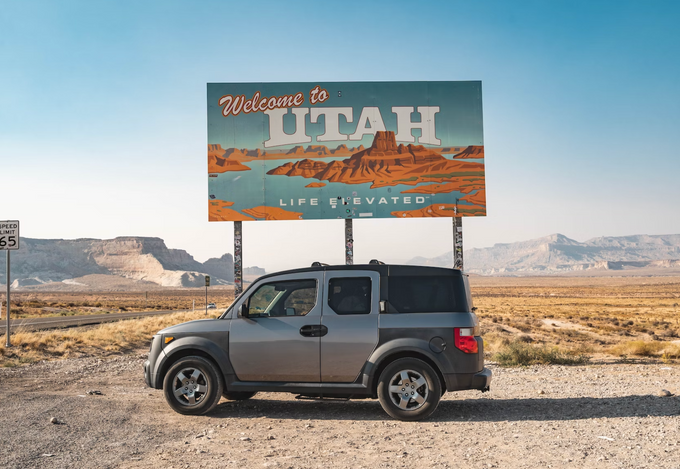 As the weather starts to cool down, travelers start to plan road trips to ski, snowboard, snowshoe, and hike at scenic winter destinations. While many people will focus on the road conditions and how to best prepare their car for snow chains, a lot will forget about the importance of sun protection. 
Contrary to what most people think, UVB rays can cause sunburns year-round, especially at high altitudes and in places where it hails or snows. According to the Skin Cancer Foundation, snow reflects up to 80% of the sun's UV light as well, which can cause sunburns, sun damage, and skin cancer, especially Melanoma. 
Wintertime sun protection is just as important as summertime sun protection, which is why we decided to provide you with some winter sun care tips. In this blog post, we'll delve into the importance of sun protection during winter road trips and provide you with advice on ho to shield your skin from the winter sun.
Why Is It Important to Shield Your Skin from the Sun During Winter?
While sunshine during wintertime may not feel as warm on your skin as it does in summertime, that doesn't mean you aren't being exposed to UV rays. UVB rays can penetrate your skin and cause sunburns and skin damage all year round!
UVA rays are apparent even on cloudy or foggy cooler days and can also go through glass windows, including car windows!
Fresh snow reflects more UV rays than water, which means your skin is even more at risk out in the snow than in the ocean! Fresh snow can reflect over 90% of the sun's UV rays, which means you get double the UV exposure!
Therefore, it's crucial to take the necessary precautions to protect yourself while going on a winter road trip or spending time outdoors during wintertime. 
Tips on Sun Protection for Winter Road Trips
Here are our tips, including a list of must-have products, on how to stay protected from UVA and UVB rays while going on a winter road trip (or spending some time driving in the snow):
Apply Sunscreen
Sunscreen is an essential part of any road trip packing list. You will need a broad-spectrum sunscreen with an SPF of 30+ and be sure to apply it liberally 30 minutes before getting on the road. 
Reapply every 2 hours and make sure to cover your face, the tops of your ears, your hands, and in between your fingers (in the event you would rather wear sun-protective gloves, those are a great option!).
Wear Sun-Protective UPF 50+ Clothing 
You should also invest in high-quality, breathable UPF 50+ clothing to shield your skin from the sun while driving. Look for comprehensive coverage, so long-sleeve UPF shirts, wide-brim hats, and pants that have a UPF rating of 50+, or the best UPF rating you can find. Also, choose sunglasses with UV protection to protect your eyes from UV rays as well. 
Tint Your Car's Windows
Consider getting your car's windows tinted with UV-protective film. This helps reduce the amount of UV radiation that enters your car and minimizes your skin's exposure to harmful UV rays.
Make sure to check state regulations regarding window tinting, as some places have specific rules regarding darkness limits for car windows. 
Use a Sun Shade
Purchase a sun shade to keep your car cool and block direct sunlight when sitting in the car for an extended period of time, like when you pull off at a rest stop, grab a quick bite in the car, or pull over to look at the scenery around you.  
Plan Your Driving Schedule Around Peak UV Hours
The UV index is typically at its peak between 10 a.m. and 4 p.m. If possible, plan your driving schedule to avoid being on the road during these hours. If driving during peak sun hours is unavoidable, take extra precautions to protect your skin by wearing sunglasses, a UPF 50+ neck gaiter, and other sun-protective clothing items.
Wear Bamboo Sun-Sleeves
Pack Chapstick with SPF 
Dry, chapped lips are common during winter due to the dry weather. Make sure you bring chapstick that also has an SPF of 30+ as your face will be exposed to UV rays the most while driving. 
Before heading off on a road trip this winter, be sure to remember to apply sunscreen, wear sun-protective UPF 50+ clothing and sunglasses, tint your car's windows, and purchase a sun-shade. 
Be sure to browse our selection of UPF 50+ clothing for the entire family to stay sun safe all year round.