Top 7 Stylish Travel UPF Clothing Picks for Women
Keep safe and stay stylish by reading our list of the top 7 stylish travel UPF 50+ clothing picks for women on our blog today.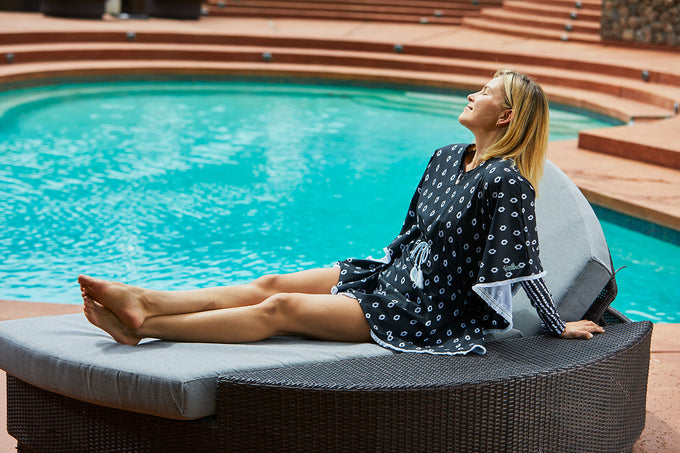 Traveling to new places or countries grants you the opportunity to explore new beaches, try new activities, and get immersed in new cultures. However, during trips, your skin is often exposed to harmful sun rays - especially if you travel somewhere near the equator as the sun is stronger there!
One way to protect yourself from the sun's rays is by applying sunscreen, but for longer periods, using UPF swimwear/clothing is best. Learn how to stay stylish and protected from the sun in our guide on the top 7 stylish travel UPF clothing picks for women. 
Why Do You Need UPF Clothing?
Ultraviolet Protection Factor (UPF) clothing is clothing that blocks the sun's rays, keeping you safe from the risk of cancer, sunburns, or sunspots. 
Technically speaking, UPF is the measurement that indicates the level of protection a specific item of clothing offers from sun rays. While this measurement can vary based on the thickness of the material, and its ability to absorb the sun's harmful rays. When it comes to effective UV protection a UPF factor of around 50 is effective for even the sunniest weather.
That said, for exposed parts of the skin it's strongly recommended you use sunscreen with the strength of at least SPF to keep you protected throughout the day.
7 Fashionable UPF Clothing/Swimwear Picks for Women
When it comes to UPF clothing, a women's sun hat with UPF 50+ protection with a wide brim is the perfect sun accessory. Simple and elegant, you can pair our women's seaside hat with a sundress, bathing suit, or swim dress to stay sunburn free and fashionable. Perfect for women of any age, this cute seaside hat is the perfect accessory to include with summertime attire. Bonus: it's easy to pack so it can fit in your carry-on or suitcase. 
Protect your skin from the sun while also looking fashionable with our women's swim shirt/dress. You can easily pair this with swim tights for a more modest swimsuit as well. This swim dress is made out of buttery soft UPF 50+ fabric and is chlorine and saltwater resistant, so it won't fade over time. 

This swim dress is also versatile, so it can be worn out around town while traveling as well. 
When it comes to comfortable travel UPF clothing, this women's wrap skirt is an excellent option to pick. Available in three different color variations, this skirt is also breathable and easy to clean. Perfect for a day at the beach, this women's UV skirt is quick-drying, not to mention chlorine and saltwater resistant as well.
Made with stretch woven fabric, this skirt provides UPF 50+ protection for best-in-class sun protection. 
In cases where you're traveling somewhere where it's a bit overcast or cooler in the afternoon and also need UV protection, this travel UPF jacket is a great choice. With this sleek and stylish look, it also serves as a thermal swim jacket. Suitable for activities, like skiing or brisk morning walks in cooler climates, this jacket offers UPF 50+ sun protection.

Made with swim knit fleece, this outfit is also chlorine and saltwater resistant making it excellent for swimming in colder water. 
When it comes to staying classy but casual, this v-neck maxi dress makes an excellent option. While travel UPF clothing mainly focuses on swimwear, this women's UPF 50+ dress is excellent for a classy outdoor event or an outing at a restaurant. 
This sun-protective dress is a must-have for any women's wardrobe. Made from bamboo viscose fabric, this dress is soft, lightweight, and moisture-wicking. 
When it comes to a warm day outdoors, or enjoying a glass of iced tea by the pool, this travel UPF cover-up is an excellent option. This Kaftan cover-up comes with a UPF 50+ and is also easy to wear thanks to its super soft fabric. With an adjustable drawstring and plus-size options, it's also very flattering on all figures. 
Available in two different colors, you'll find that this clothing option is a great choice for any sunny day. That said, if you're wearing this with shorts, we strongly recommend you wear an adequate amount of sunscreen to stay safe.
Finding athleisurewaer that comes with a decent UPF rating can be challenging. Luckily these women's UPF pants are an excellent choice for both fitness and swimming activities. Available in various colors and sizes XS to 4XL, these swim tights provide protection from the sun's harmful rays.
Created with knit sun fabric, these tights are quick drying, as well as chlorine and saltwater resistant. Form-fitting and sleek to wear, these tights provide a comfortable travel experience too. 
Be Sure to Check out UV Skinz's Complete UPF 50+ Travel Collection Today!