Best 6 Sun Protective Clothing Options for Babies and Kids
You may be surprised to know that youngsters are exposed to the sun three times more frequently than adults, and the average lifetime UV exposure for someone before age 21 is 80%. Toddlers tend to spend more time outside when the weather gets warmer.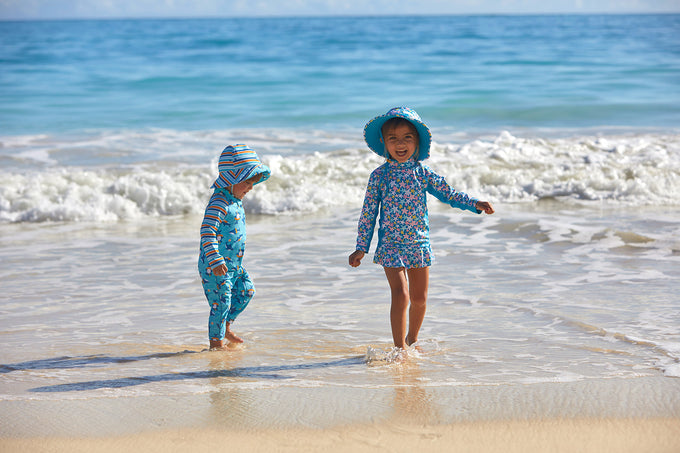 You may be surprised to know that youngsters are exposed to the sun three times more frequently than adults, and the average lifetime UV dosage for someone under the age of 18 is 80%, according to the National Library of Medicine's study on UV exposure on young adults.
Babies and toddlers tend to spend more time outside when the weather gets warmer, and there is no doubt they need additional sun protection more than we do!
According to dermatologists, the sun's ultraviolet (UV) radiation can harm your skin in as little as 15 minutes! Take that information and consider how long babies and kids play in the sun, and that's a concern. 
It is recommended to use sunscreen with an SPF of 30 all year, especially during summertime, and to ensure your kids are wearing UPF 50+ clothing and swimwear to keep them safe from UV exposure. 
Today, UV Skinz goes over why UPF clothing for babies and kids is so important as well as the 6 best sun protective options for your little ones. 
Sun Protection Clothing for Kids: Why It's Important
Sun protection or UPF clothing is very important for kids as children are more likely to suffer sun damage than adults. They may be more at risk of UV damage due to the fragility of their immune systems.
Baby UPF Clothing: Why Infants and Toddlers Need to Be Protected from the Sun
According to Better Help, infants and toddlers (up to 4 years of age) are especially vulnerable to skin changes caused by UV radiation. This is due to the fact that they have lower levels of melanin and a thinner outermost layer of skin. In fact, close to 25% of lifetime sun exposure happens during the first two decades of your life!
UV damage that occurs during childhood and adolescence is strongly associated with an increased risk of skin cancer in later life. 
How UV Skinz Helps Children Stay Sun Safe
UV Skinz' Founder Rhonda Sparks is incredibly passionate about keeping children safe in the sun so they can have fun outdoors while not putting themselves at risk. It truly lights her up and is one of her biggest passions. 
UV Skinz offers UPF 50+ clothing for babies and children alike, which is the highest UPF rating possible. This means our clothing blocks over 98% of all UVA and UVA sun rays. 
To help you find the best sun-protective clothing for your little ones, we've compiled a list for you below. 
UPF Baby Clothing: UV Skinz's Favorites
How cute and versatile is this article of baby UPF clothing? The Baby Bamboo Sun Legz™ are one of a kind in the UPF clothing market. These are a must-add to your kids' vacation kit.
They come in three playful colors: navy blue, light pink, and white. These Sun Legz are gentle on a baby's delicate skin and are made from ultra-soft viscose from bamboo, so you won't have to worry about a fussy kid at the beach. 
It can be difficult to remember to reapply sunscreen to your little ones' legs throughout the day, but these Sun Legz make it so you don't have to! For ultimate coverage, pair these with our baby boy's UPF hooded sunzie or baby girl's UPF hooded sunzie. 
This baby girl beach cover-up will keep your toddler safe from the sun's harmful rays, so she can stay outside and play to her heart's content. The UPF 50+ fabric blocks over 98% of the sun's UVA and UVB rays. 
This cute baby cover-up comes in a colorful popsicle design and has two front pockets, so your kiddo can store their favorite toys with ease. Pair this with our baby girl's long sleeve swimsuit for ultimate sun protection.
If you're looking for a kids or baby bucket hat, this one is comfortable and pairs well with our other baby and kids UPF clothing! Featuring a reversible option, your child can rock this in two different ways. 
Our favorite feature of this baby bucket hat is that it doesn't have a brim on the back, making it safe for infants and young children to lay on you whenever they're in a stroller or taking a nap in the sun. 
Another one of our favorite baby UPF clothing pieces is our baby girl's sun hat. It's breathable, cute, and so comfortable! It's also available in various fun patterns and colors, including soaring unicorns, starfish party, and over the rainbow. 
This hat also has a UPF rating of 50+ so it protects your little girl from over 98% of UVA and UVB rays. 
Note: You can easily pair it with one of our girl's matching swimsuits!
Our baby boy's swimsuit provides UPF 50+ protection and is durable, lightweight, and super cute. 
A parent's dream come true, it's super easy to take off, even when wet, and has long sleeves which provide additional UV protection. 
Note: You can easily pair this with one of our boys' matching sun hats. 
Does your little child enjoy playing on the beach? With the help of this kids' hooded beach towel, you can make your child's beach experience enjoyable while keeping them sun-safe. This incredibly soft, cuddly towel with a hood will keep your youngster warm, dry, safe, and fashionable whether they're at home by the pool or at the beach!
Tips on How to Protect Your Kids from the Sun
It is so important to teach kids sun-safe practices since they spend a lot of time outdoors, especially during the summer. Make sure your kids are protected from the sun by following these tips:
Apply extra sunscreen: Protect your kids' skin with a broad-spectrum sunscreen with an SPF of at least 30 if they are older than six months. Keep more sunscreen on hand so you can reapply them throughout the day.


Carry a sun-safety kit: You can never predict what the day will bring. Make a travel-sized kit with everything you need to protect your child from the sun at the start of the summer. Never leave your house without it.


Replace worn-out UPF swimsuits and coverups: When damaged or worn, replace your children's sun-protective clothes. Keeping your body shielded from UV rays necessitates a multi-level strategy. UPF clothing is not indestructible and might lose its efficacy over time as it ages. Carefully handle and launder according to the directions on the UPF care label.


Consider staying indoors: On hot days, stay inside to avoid risk. Stay safe on hot days by making sure your kid doesn't overheat and drinks lots of fluids in addition to using sunscreen. Take your baby inside immediately if he or she is fussy, sobbing a lot, or has redness on any exposed skin.


Cover up: Your skin is not totally shielded from the powerful light by even the greatest sunscreen. Because your baby's skin is more delicate than an adults, your little one requires additional sun protection. Wearing long sleeve shirts, rash guards, or wetsuits while your little one is outside enjoying the sun, swimming, or playing at the beach is the best course of action.
Put on sun protection clothing for kids: Put your baby/child in lightweight, long-sleeve UPF 50+ clothing.


Put a hat on your kid: Have your baby/child put on a UPF 50+ hat to protect them. The hat's brim should be at least three inches wide on both sides. Teach kids that a sun hat with sun protection is a necessary component of their outdoor attire. Don't forget to shield your child's eyes as well with UV protection sunglasses.


Stay in the shade: Keep your infant as much as you can in the shade. If you want to spend a lot of time at the beach, it's a good idea to bring some shade along with you, our baby sun blanket is a great option, or look for cover behind a tree or an overhanging rock.


Avoid the hottest part of the day: Keep your kids in the shade whenever possible and try to avoid the outdoors when the UV index is high. 
Frequently Asked Questions About Baby UPF Clothing
How Should I Dress my Baby to Protect Them From the Sun?
Wearing breathable, long-sleeved clothing will help ensure your child is adequately shielded from the sun. For their protection from sunburn, babies should always wear hats with long brims that cover their necks.
Which Fabric Is Best for Babies for UV Protection?
More sun protection is provided by synthetic fabrics such as wool, polyester, nylon, and silk than natural fibers. As they are tightly woven, synthetic materials like nylon and polyester are popular choices for clothing that block the sun.
Avoid using materials made of cotton, flax, rayon, and hemp since they do not effectively block UV radiation without further chemical treatment.
You also want to get clothing with a UPF rating of 50+. 
Do Babies Need UPF Clothing?
Babies under 6 months old must wear full-coverage UPF clothing since they cannot wear sunscreen. It's also important to shield toddlers and children from the sun as well as their skin is more sensitive and can cause skin cancer later in life. 
Why Choose UV Skinz for Baby UPF Clothing
UV Skinz clothing and swimwear's UV protection remains intact even after it has been wet and is also chemical free! You can relax knowing that if your children wears our sun-protective clothing that they can run, play in the water, and have fun on the beach.
UV Skinz's baby UPF clothing has a UPF rating of 50+, is third-party tested to ensure quality, and is available in a variety of fun and playful prints for babies and kids of all ages.
Be sure to check out our full baby UPF clothing collection for more inspiration.