Sun Safety Tips for All Seasons: Why UPF Clothing Matters Year-Round
While it may seem that you only need to protect your skin from UV rays during summer, this isn't the case! Learn why sun-protective clothing and swimwear matters all year round as well as helpful sun safety tips for each season on our blog.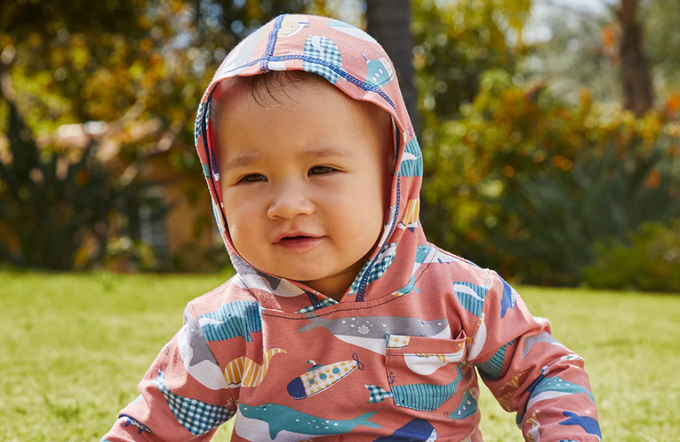 While it seems obvious to protect your skin from the sun during summer, what may not be super apparent is that you actually need to keep practicing those sun safety tips all year round. 
The truth is that the sun's ultraviolet rays can harm your skin during any month, so protecting your skin from UV rays is not just something you should do while on vacation or during the summertime. 
Today, we go over some helpful sun safety tips for each season and explain why you should wear UPF clothing and swimwear year-round.
Understanding UV Radiation and How it Works
Before we dive into the importance of UPF clothing throughout the year, it's crucial to understand why sun protection is needed all year long. To help you understand why, we're going to go over the different types of UV rays.
UV radiation from the sun comes in two primary forms: UVA and UVB.

UVA rays have a longer wavelength, are associated with skin aging, and can penetrate windows and clouds. They are present with relatively equal intensity during all seasons.

UVB rays are responsible for causing sunburns and play a more significant role in the summer months when the sun is at its peak. However, they are still present during other times of the year.
According to the Skin Cancer Foundation, UV radiation is a proven human carcinogen which can cause basal cell carcinoma and squamous cell carcinoma, cancers which often appear on sun-exposed areas of skin. When found and treated early these types of skin cancer are usually curable. 
UV exposure that leads to sunburns can lead to melanoma, which is a more dangerous type of skin cancer.
Sun Safety Tips for Each Season
While it's recommended to wear sun-protective clothing and swimwear with a high UPF rating as well as broad-spectrum sunscreen during every season, here are some tips on what types of clothing/swimwear are best suited for each part of the year. 
Fall Sun Safety Tips
As this season is generally cooler for most people, remembering sun-protective clothing is important. It can be easy to think "it's cloudy outside, so I don't need to wear sunscreen or anything with a UPF rating," but this isn't true.
Remember: you can get sunburned when it's cloudy outside.
We recommend wearing the following during the cooler fall months: 
Winter Sun Safety Tips
Remember that UV rays reflect off of snow, so be careful during this season! If you're playing in the snow, snowboarding, skiing, or whatever it is you like to do during wintertime, don't forget the broad-spectrum sunscreen and sun protective clothing and gear. 
Here's what we recommend wearing during winter to protect yourself from UV rays:
Spring Sun Safety Tips
By the time Spring comes around, most of us are so ready for sunshine that we don't wear sunscreen or protect our skin with UPF clothing when we go outside. Be careful during this time as this puts you at a higher risk of damaging your skin, getting sunburnt, and, potentially, getting skin cancer. 
Aim to wear the following during springtime and pay attention to the sun's UV index during the day: 
Summer Sun Safety Tips
UV rays tend to be the most intense during the hot summer months. This is where the sun's rays are strongest as the sun is directly overhead, so UV rays travel a much shorter distance to get through earth's atmosphere. 
During this time of the year, wearing sun-protective swimwear, broad-spectrum sunscreen, and avoiding the sun during peak UV hours is key. 
Here are some tips of what we'd suggest wearing during this season: 
UV Skinz's UPF Clothing Recommendations for Year Round Sun Protection 
Women's Bestsellers 
Men's Bestsellers
Kids' Bestsellers
Baby Bestsellers
Our UPF swimwear is actually called sun wear/swimwear as it can be worn either out and about or in the water. This makes our bestsellers the perfect year-round sun protective apparel for the entire family!
Stay up to date on the latest UPF fashion trends all year long today. We've got you covered all year round.