What Should Your Baby Wear to the Beach?
As a new parent, you might be wondering what your baby should wear to the beach. Learn all about must-have baby beach wear that will keep your baby protected from the sun on our blog today.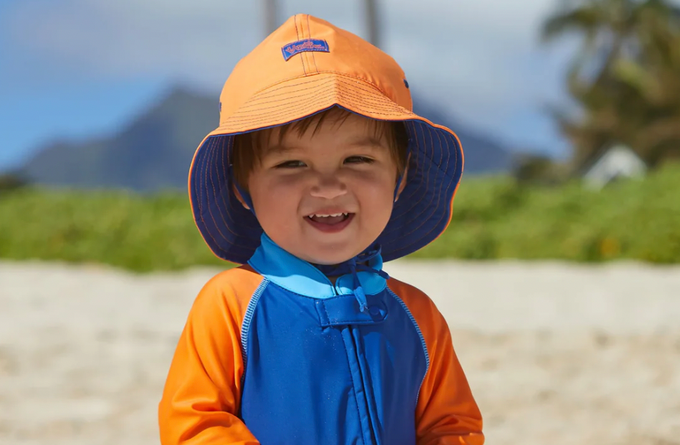 Ahoy, beach-loving parents! When it comes time to pack up the sunscreen, towels, and beach toys for your baby's first beach day, there's a lot to think about, plus what should your baby wear to the beach? 
Today, we go over how to prepare your little one for a day at the beach, including must-have baby beachwear to keep your baby safe from the sun's harmful UV rays, which can really damage a newborn's skin. 
What Does a Baby Need to Wear at the Beach?
Babies should wear UPF 50+ swimwear to the beach or any activity that involves sun exposure. Not only does it provide the best sun protection for your little one without all the harmful chemicals found in sunscreen, but it's also adorable and practical. So, grab your beach bag, pack some snacks, and let your baby make a splash in style and safety. 
Here's what we consider the best sun-protective clothing options for babies for their first beach day:
 
Best Baby Boy's Sun Protective Clothing 
Check out our list of the best baby boy sun-protective clothing, all are rated UPF 50+ for best-in-class sun protection:
Baby Girl's Sun Protective Clothing 
Browse our selection of the best baby girl sun protective clothing, all are rated UPF 50+ to keep your little one safe as can be while playing in the sun:
Aside from baby UPF swimwear, you can also consider other sun-protective accessories for your baby. Wide brim or flap hats keep the shade off of their face, sunglasses with UV protection can help protect their eyes from the sun, and beach tents or umbrellas can provide shade for them. 
Can Babies Wear Sunscreen?
Ah, the eternal question for beach-going parents. First and foremost, it's important to remember that babies under 6 months old should not wear sunscreen because their delicate skin can absorb the chemicals in sunscreen more easily, which can lead to irritation and other adverse reactions. 
The American Academy of Pediatrics recommends keeping infants out of direct sunlight and dressing them in lightweight, long-sleeved shirts and pants, as well as brimmed hats that shade the face and neck. But let's be honest, who wants to see their little one in long pants and sleeves on a hot day at the beach?
Alternatives to Baby Sunscreen 
An alternative to baby sunscreen is to keep babies in the shade and dress them in UPF 50+ protective clothing. That's where UPF swimwear, also known as UV protective swimwear, comes in handy. UPF stands for Ultraviolet Protection Factor, which is similar to SPF for sunscreen but applies to clothing. UPF swimwear is specially designed to block harmful UV rays and protect your baby's delicate skin from the sun. 
When it comes to choosing the right UPF swimwear, look for a garment with a UPF rating of 50+. This means that the fabric will block 98% of UVA and UVB rays, providing the best protection possible. You can also find swimwear with added features like hoods, zippers, and snaps to make getting your little one in and out of their swimwear a breeze.
However, for babies over 6 months old, sunscreen is a great addition to sun protection. Look for a sunscreen that is specifically formulated for babies and has an SPF of at least 30. Don't forget to reapply every two hours, especially if your little one is in and out of the water. Just remember to follow the guidelines and keep your baby safe and protected from the sun's harmful rays.
At What Age Can You Take a Baby to the Beach?
There isn't a hard and fast rule, but the younger they are, the more careful you need to be because they can experience more long-term harm if they are exposed to too much of the sun's harmful rays. Research on sun exposure shows that some babies are being exposed to the sun's damaging UV rays in their first six months of life when their skin is most vulnerable. Yikes! 
A team at the University of Miami surveyed local parents about their sun protection habits for their little ones, and the results were alarming. Many parents weren't consistent in their efforts to protect their babies from the sun, and some even thought that exposing their infants to more sun would somehow build up their tolerance.
As a result, some babies were getting tanned or even sunburned before they hit the 6-month mark. Let's remember that all infants' skin is super sensitive to the sun, and we need to be extra careful to protect them from those harmful rays. After all, we want our little ones to be healthy and happy for a long, long time!
How Do You Keep Your Baby Safe from the Sun at the Beach?
Now that you've got your little beach babe dressed to impress in their UPF 50+ sun-protective clothing, let's talk about keeping them safe from the sun when you actually get to the beach! 
To keep your baby safe from the sun at the beach, put a UPF sun hat on your baby, and find a nice shady spot to set up your beach headquarters. A beach umbrella or pop-up tent can provide much-needed shade for your little one. And don't forget to pack some UV-filtering sunglasses to protect their delicate eyes. Don't forget the natural sunscreen for the little ones older than 6 months old and a nice big beach towel to protect everyone's skin from the hot sand. 
Best Baby Swimsuit 
Introducing UV Skinz®'s Baby Sun and Swim Suit - the best baby swimsuit with ultimate sun protection. This is for parents who want to keep their little ones safe in the sun while also providing maximum comfort and style.
Our baby swimsuit was created with parents and their little ones in mind. It will make your life easier and your baby's day at the beach or pool more enjoyable. The full front zipper closure makes the swimsuit so easy to take on and off, even when wet! No more needing to struggle to take your baby's wet bathing suit off. 
Here's why parents consider this UPF baby swimsuit the best baby swimsuit: 
UPF fabric blocks 98% of the sun's rays
4-way stretch gives your baby the freedom to play and move
Quick-drying fabric
Saltwater and chlorine resistant 
Easy to wash and care for on laundry days 
UV Skinz's Baby Sun and Swimsuit Reviews
Our baby swimsuit has received rave reviews from parents across the country for the following reasons: 
Full-body sun protection, UPF 50+ rating
Quick-drying material 
Functional and cute design 
Kristen K from Florida says she loved knowing her baby was protected and her little one found the swimsuit comfortable enough to move around in all day. 
Eileen W from Texas was impressed by how the sun shielded her baby. Her baby had no tan and didn't get sunburnt at all after a long day in the sun. 
Jessica W loved the swimsuit's material and colors and found that the suit provided great coverage for her 4-month-old who was too young for sunscreen.
Best Baby Beach Towel 
Make drying your little one after a dip in the pool or ocean fun, with the best baby beach towel: our kid's hooded beach towel. This towel is well-known and loved by customers for the following reasons: 
Certified UPF 50+
Breathable
Comfortable and soft on your baby's skin
Easy to care for on laundry days
Fun to wear
Best Baby Sun Hat
Our baby sun hats have gotten plenty of five-star reviews thanks to their sun protective abilities, their fit, and their cuteness factor. Here's why parents and babies love our sun hats: 
UPF 50+ rating to keep your baby sun safe
Chorine and saltwater resistant
Quick-drying
Easy to wash
Super comfortable 
You can choose from our baby's reversible sun hat or our baby's swim hat.
Best Baby Sunscreen
For the best sunscreen for your baby, look to CoTZ's Baby sunscreen. It is dermatologist-recommended and has been clinically tested for both effectiveness and safety. Its gentle and safe formula is perfect for protecting your baby's sensitive skin from harmful UVA and UVB rays.

Here's why this sunscreen is the best sunscreen for babies older than 6 months of age:
Free of harmful chemicals
Gentle on your baby's soft and sensitive skin
Water-resistant
Easy to apply
Doesn't leave a greasy or sticky residue on your baby's skin
SPF level 40+
  
With an SPF of 40+, this extra gentle sunscreen provides reliable protection against the sun's harmful rays, reducing the risk of sunburn and skin damage. So if you're looking for a safe and effective sunscreen to protect your baby's delicate skin, CoTZ Baby is the way to go!
Best Baby Cover-Up
Our baby hooded terry beach cover-up is the best baby cover-up for a beach day.  With certified UPF 50+ sun protection, over 98% of UVA and UVB rays are blocked, giving you peace of mind while your little one plays in the sun. Here's why this is considered the best baby cover-up by our customers: 
Super comfortable and soft fabric
UPF 50+ rated
Durable
Easy to care for on laundry days
Super cute
Quick-drying
Best Baby Beach Onesie
Our baby boy's UV sunzie and baby girl's UV sunzie are the best beach onesies around. Here are the reasons our customers absolutely love them and won't plan a beach day without one:
UPF 50+ rating, so no need for messy sunscreen
Buttery soft fabric
Back of neck snap for easy changing 
Relaxed fit
Available in a variety of cute patterns and colors
When it comes to beach safety for babies, remember to choose UPF 50+ swimwear and beachwear that your little one will feel comfortable playing in all day. Put sunscreen on babies older than 6 months (and ask your doctor if you still have concerns about this) and remember to find some shade for your little one during the hotter times of the day. 
If you need any help choosing sun-protective clothing for your baby, feel free to browse our selection of baby UPF clothing and swimwear online.